Taylor Swift's '22' Covered By Miami Dolphins And New Orleans Saints Cheerleaders
19 June 2013, 13:48 | Updated: 19 June 2013, 13:56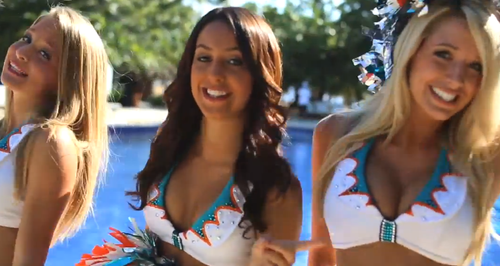 Watch the female stars lip-sync along to the hit single from the US pop-country star.
Taylor Swift's recent single '22' features in two new lip-syncing videos by cheerleaders from NFL sides the New Orleans Saints and the Miami Dolphins.
An array of bikini-clad females star in both clips with the New Orelans stars taking to swamps and playing with baby alligators in their version.
The Miami stars head to the beach and are seen soaking up the sun during their own take of the song.
The video has also been previously covered in a '32' version by a US comedian and Conan O'Brien released a video of himself questioning the credibility of the original video and it showing a true reflection of life at that age.
Watch the New Orleans Saints cheerleaders performing '22' below:
Her hit 'I Knew You Were Trouble' was also at the forefront of a goating craze which swept the web earlier this year.
Check out the Miami Dolphins cheerleaders performing their take of '22' by Taylor Swift below: