Taylor Swift Paused Her Concert To Pay Respects To 'Brave' LGBT Community In Heartfelt Speech
4 June 2018, 16:19
Taylor Swift has praised the bravery and honesty of the LGBT community in a heartfelt speech she made during her Reputation tour in Chicago.
Taylor Swift paused her Reputation tour mid-concert to let the LGBT community know how much she "loves and respects everybody who has been brave enough to be honest about how they feel, to live their lives as they identify" to celebrate the start of Pride month in America.
Taylor Swift Brought Selena Gomez Out To Perform On Her Tour & Got The Sweetest Surprise In Return
She added that: "I think we need to celebrate how far we've come and acknowledge how far we still have left to go" to the cheers of the 52,000 strong crowd.
Her tribute wrapped up by adding: "When it comes to feeling and it comes to love it's all just really delicate, you know?"
*Cue the track*. Fierce.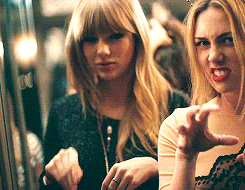 Picture: GIPHY
Download Our Brand New App For All The Latest Tay Tay News