Stormzy Officially Confirms He's Headlining Glastonbury Festival 2019
15 November 2018, 15:32 | Updated: 16 November 2018, 11:05
Stormzy has been announced as the first headliner for Glastonbury festival 2019 with announcement coming via posters in Oxfam charity shop windows to be noticed by eagle eyed passers-by.
Stormzy has confirmed he will headline 2019's Glastonbury festival, after the festival released his name via posters put in Oxfam charity shop windows to be noticed by people walking past on the street in a genius move.
Glastonbury 2018: Huge Hint That Stormzy Will Headline Festival & Opinion Is Divided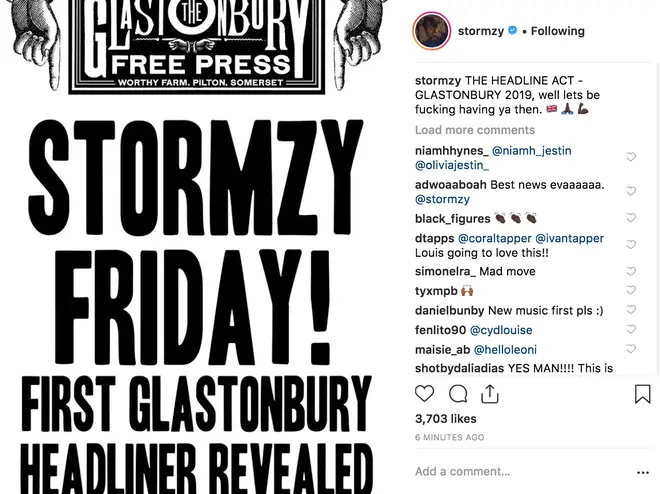 The 'Shut Up' star captioned the post: "THE HEADLINE ACT - GLASTONBURY 2019, well lets be f***ing having ya then".
The news comes just days after one of the festival's founders, Emily Eavis teased that a headline act was a 'British male' who 'hasn't had a stage like this before' and is someone "most excited about in Britain right now" which lead many to land on the Grime star's name, and it seems they were correct!
As of yet, only a couple of eagle-eyed Glastonbury fans have spotted the understated shop window posters, with Twitter uses flooding the comments asking where they saw the posters.
Critics of the choice are saying that as he only has one album to date, his debut, 'Gang Signs & Prayer', he doesn't have the catalogue of music necessary to fill a headline slot, with many others beside themselves with excitement at the first British male rapper to headline the legendary festival.
>Download Our Brand New App For All The Latest Stormzy News