Fans Are Worried Stormzy & Maya Jama Have Split But We Really Hope It's Not True
13 March 2018, 15:03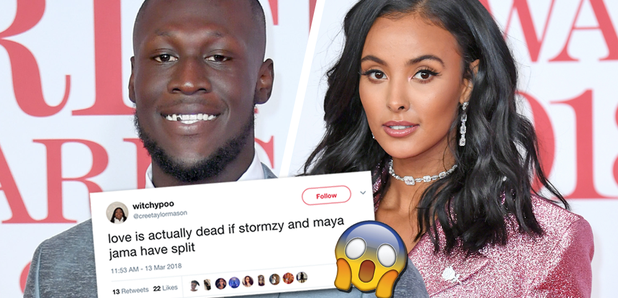 The much-loved power couple have been together for just over three years, so we're hoping that this 'evidence' that the pair have split proves to be false.
As one of the music industry's most exciting talents, Stormzy has won over the hearts of the nation with his infectiously-catchy brand of Grime, dominating the charts in the process with his award winning debut album 'Gang Signs & Prayer'.
Throughout his whole come-up, Stormzy's girlfriend, presenter and TV personality Maya Jama has been by his side the whole time and we've built up a love for this power couple that has made rumours they've split so much more painful to see.
> Stormzy Honoured A Fan's Wish, By Performing 'Blinded By Your Grace' At The Fan's Father's Funeral
But what are the rumours and where have they come from? Well we took a look at all the evidence that appears to have started it all off...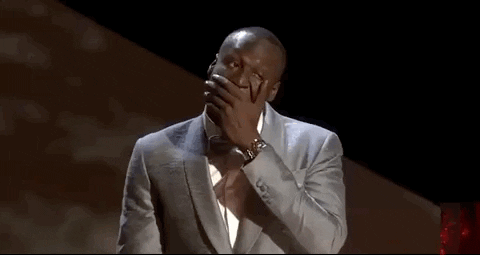 (GIF: Giphy)
It all began when Stormzy unfollowed Maya on Instagram. It's 2018, so we all know that unfollowing your bae on social media is a massive hint that you've parted ways.
Our hearts skipped a beat when we noticed and it turns out we weren't the only ones, as fans took to Twitter to share their distress...
love is actually dead if stormzy and maya jama have split

— witchypoo (@creetaylormason) March 13, 2018
Righttttt so Stormzy unfollowed Maya. I want an explanation and I want it now we can't lose another couple pls

— CHARISMA2K18 (@j_dsoxza) March 13, 2018
Plz tell me it's not true that Maya Jama and Stormzy have split up this is like Brad and Angelina all over again

— Ferne Mcelduff (@fernemcelduff) March 13, 2018
But thankfully, after a short while the Grime star followed his girlfriend back once more, so maybe we can put it down to an accident/techological error/hack rather than the results of a possible argument?
But fans have noticed that the pair haven't actually shared pictures of each other on their Instagram accounts for quite some time, with Stormzy's last post coming on 27th January and Maya's coming on 22nd February following the BRIT Awards.
Following Stormzy's BRITs double win, Maya shared a pic to Twitter alongside the caption 'The actual best', so surely things can't have gone drastically wrong since then?
The actual best pic.twitter.com/ys8pmsvfZI

— Maya Jama (@MayaJama) February 22, 2018
A lot of these rumours have also been linked to the moment Stormzy was announced as the winner of his two BRIT Awards for 'Best Male' and 'Best Album' as Maya was knocked out of the way as Stormzy's group of friends celebrated his win.
Although we're not convinced Maya would take that as a disrespect from Stormzy and think it adds little to the rumours tbh...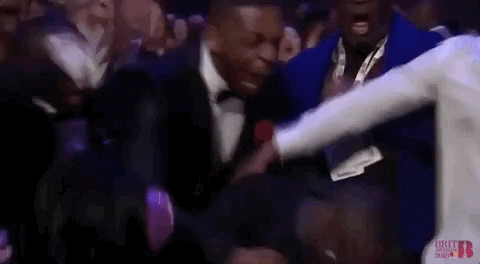 (GIF: Giphy)
People have also suggested that because Stormzy hasn't posted anything about Maya's recent appearance on the cover of Women's Health magazine, it adds weight to the split rumours, but we're just not buying it.
Big Mike hasn't posted anything at all on Instagram for almost a month, so it's not like he's posting everything except Maya related pics. On his Twitter Stormzy's kept it pretty much all music-related chat, so again we're not taking that as any indication of a split.
So what we're saying is that we don't think there's any truth to these rumours, so we should all be able to relax - we love these two as a couple and really hope they'll be together for a long time yet!
> Download Our Fancy New App For All The Latest Stormzy Chat!
Whilst you're here, check out Anne-Marie's hilarious story about Stormzy sneaking a meal into the Global Awards recently...