12 Brilliant Stormzy Tweets That Prove Exactly Why You Need To Be Following The Grime Star
26 July 2017, 16:38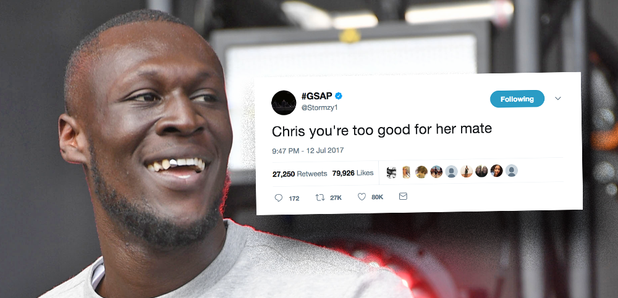 Yep, Stormzy's Twitter account is sometimes more interesting than our whole week!
Having become a household name over the last 12-18 months, Stormzy has had a prolific rise.
His debut album 'Gang Signs & Prayer' hit the top spot of the charts and he performed sold out shows around the world, including a memorable set at this year's #CapitalSTB.
> Stormzy Just Shared A Screenshot Of His Phone & Fans Can't Believe How Many Unread Messages He Has
But aside from his music, one thing we love Stormzy for is his Twitter skills, so we've pulled out some of his best ever tweets that prove just why he's one of our favourite people to follow...
1. When Little Mix fans heard Stormzy was gonna be featuring on the girls' single 'Power' they were a little worried, but Big Mike wasn't having any of it...
little mix fans are a serious bunch of supporters. Don't be sceptical guys, we done it justice. You can trust the girls https://t.co/U22X3fKVKQ

— #GSAP (@Stormzy1) May 19, 2017
2. Stormzy pretty much became the king of Love Island this year with his tweets and this one claiming Chris was too good for GF Olivia sent shockwaves through the villa and our across our timeline too!
Chris you're too good for her mate

— #GSAP (@Stormzy1) July 12, 2017
3. After a fan messaged Stormzy to ask when his next 'tape' was dropping, four days after the Grime star had released his debut album, Stormzy hit back with a hilarious tongue in cheek response...
Does someone wanna tell him or should I https://t.co/VueIGeikAZ

— #GSAP (@Stormzy1) March 28, 2017
4. After the excitement of getting a number one album, Ed Sheeran popped up after a year away just to spoil the fun for his pal...
I had the record for the most 1st week streams on a no.1 album. Was great whilst it lasted, thanks ed love you

— #GSAP (@Stormzy1) March 10, 2017
5. Supporting other people is one of our favourite things that Stormzy does on Twitter and this occasion was one of his most touching...
Keep being a light for others even when yours ain't shining too bright

— #GSAP (@Stormzy1) March 31, 2017
6. When someone questioned Big Mike as to why he was releasing a song with Little Mix, he fired back with one of our favourite responses on Twitter EVER...
Coz I rate Little Mix. More than I rate some rappers tbh https://t.co/JWUOhn3SEJ

— #GSAP (@Stormzy1) May 19, 2017
7. His tweets aren't always deep and meaningful or empowering, but they're still important AF...always!
That was top 5 fish finger sandwiches of all time. Really nice sandwich

— #GSAP (@Stormzy1) 11 April 2017
8. Even when fans get his lyrics wrong, Stormzy remains calm, highlights it in front of his thousands of followers and the adds a load of laughing emojis - the sign of a true pro...
think you got the lyric a lil bit wrong brother https://t.co/RvdggJXEBc

— #GSAP (@Stormzy1) March 1, 2017
9. When he does have a serious point to make though, Stormzy isn't afraid to say what he really feels. After a newspaper printed a picture of the 'Shut Up' star mistaking him for footballer Romelu Lukaku, he made sure his feelings were known...
I don't find none of this funny btw don't wanna sound like the party pooper who missed the joke...

— #GSAP (@Stormzy1) July 10, 2017
10. He also encourages people to be open and talk about their feelings. How can anyone hate on that?
Don't wanna sound like one of them jarring parody accounts lol but it's defo ok to not be ok sometimes you ain't as strong as you think

— #GSAP (@Stormzy1) July 13, 2017
11. Thankfully plenty of people are aware of just how brilliant the South London wordsmith is...
Today I received the "Person Of The Year" Award from Oxford University ACS. Standing proud in a room full of young black Kings & Queens. pic.twitter.com/MABnj8fjci

— #GSAP (@Stormzy1) July 11, 2017
12. So all hail King Stormzy tbh...
Here for a good time not a long time

— #GSAP (@Stormzy1) July 12, 2017
Whilst you're enjoying a bit of a Stormzy love-in, check out his performance of 'Shut Up' in front of 80,000 fans inside Wembley Stadium at the #CapitalSTB...
Download The Capital App Now To Stay Up To Date With The Latest Stormzy News & The Biggest And Best Hit Music