Sia's Got Her Own Snapchat Filter - And We're TOTALLY Addicted!
21 July 2016, 13:41 | Updated: 21 July 2016, 13:45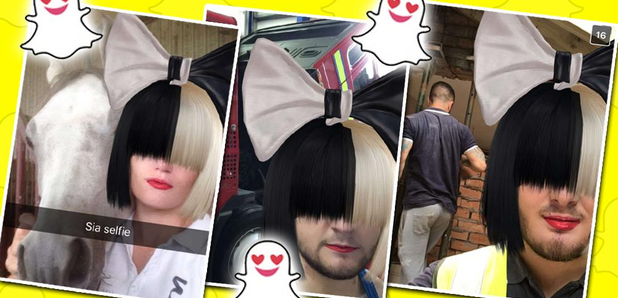 Just when you thought Snapchat couldn't do better than the dog filter...
First there was rainbow vomit, then there was perfect af skin, closely followed by the cute dogs... but Snapchat's surpassed itself with its latest filter.
Now you can turn yourself into ACTUAL Sia!
> Celebrity Snapchat Usernames
> Snapchat Trophy Case: How To Get ALL The Achievements
Yes, kiss goodbye to 2/3 of your face and transform yourself into the chart-smashing Aussie superstar using just your selfie camera!
Oh, and make sure you turn your phone off silent so you can ACTUALLY sing along to 'Cheap Thrills'!
OMG!! That he probably the best filter on snapchat ever! @Sia #sia pic.twitter.com/972oe4RdeI

— SH (@whatnow273) July 21, 2016
Up next on @CapitalOfficial, @sia speaks exclusively to @ant_man_go pic.twitter.com/W6aqpBphnY

— Matt Garforth (@MattGarforth) July 21, 2016
We are LOVING everybody today at work becoming @Sia on our Snapchat! Ant pic.twitter.com/RHxU1zJ1oK

— Capital (@CapitalOfficial) July 21, 2016
snapchatにsiaがあった#SIA #snapchat pic.twitter.com/P3gSQz6bn9

— ROILL (@Happycrazygirll) July 21, 2016
@SiaFurlerSource @BigGirlsCryBig @sia @17days HOW AMAZING IS THIS FILTER ON SNAPCHAT??? pic.twitter.com/FjQouR8zH7

— Elastic Heart (@PetraViklund1) July 21, 2016
Covering up the sweaty hair with the #siafilter @CapitalOfficial pic.twitter.com/iamuXbLVQD

— luke (@lukemorriss_) July 21, 2016
@CapitalOfficial pic.twitter.com/50GvpgNgEw

— Geneva Hurd (@genevahurd) July 21, 2016
Make sure you add us on Snapchat & send us your best Sia impression - 'CapitalFM'
You May Also Like...