WATCH: Selena Gomez Fell Over On Stage And Recovered It So Well Like The Bloody Pro She Is
20 June 2016, 15:05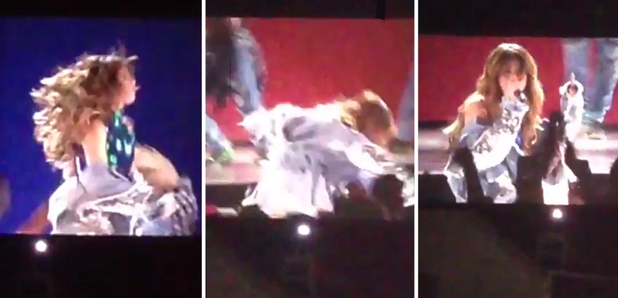 Currently jetting all over North America on her Revival World Tour, poor Selena took a slip on stage last night.
It was whilst performing her song 'Kill Em With Kindness' that she lost her footing and hit the deck. Now usually most performers after falling try and get up as quick as poss and hide the fact they've fallen like a sack of spuds.
Except not for Selena. Oh no, what does she do? She sits there, in tears of laughter finding herself bloody hilarious.
Selena fell during #KillEmWithKindness! #RevivalTourTulsa pic.twitter.com/PsK6JUjQg6

— Selena Gomez News (@SelGomezNewsCOM) June 20, 2016
Poor Selena shouted after tripping, "First fall on the whole damn tour, can you believe it in Tulsa?! Well I'll be damned."
With the incident coming just days after Justin fell over, fans have been quick to suggest OTT headlines for media to draw tenuous links to Biebs.
Wait for the headlines to say "Selena Gomez fell on stage, is she trying to tell something to Justin?"

— Aroon (@Lipstouchanothe) June 20, 2016
And here the fall is, one more time, just in beautiful slow mo, because everything is funnier at a quarter of the speed.
LMFAOOOO SELENA FELL pic.twitter.com/Gfurcfk2el

— ️ (@selenasmodel) June 20, 2016
You May Also Like...