Selena Gomez Confirms New Album 'Stars Dance' Tracklisting And Artwork - Video
4 June 2013, 11:27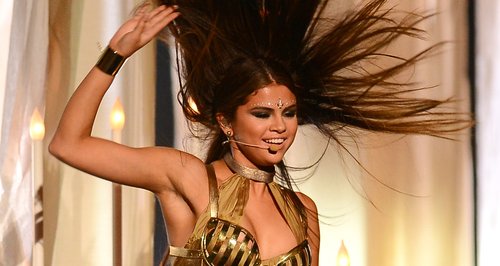 The 'Come & Get It' singer is preparing to launch her first ever solo album next month.
Selena Gomez has unveiled the officialy artwork and announced the full track-listing for her brand new album 'Stars Dance'.
The 'Love You Like A Love Song' star will release the album in late July following the huge success of the record's lead single 'Come And Get It' in the US last month.
Selena hosted a live web chat with fans yesterday (3rd June) where she unveiled the glamorous artwork as well as the 11 tracks that make up the standard edition of the new record.
'Stars Dance' will be former Disney star Selena's debut solo album, although she did release three records as Selena Gomez & The Scene between 2009 and 2011.
Check out the artwork for 'Stars Dance' below:
The US star is expected to release 'Slow Down' as the album's second single after shooting a music video for the song last week.
Selena Gomez releases new album 'Stars Dance' on 23rd July.
Check out the full track-listing for Selena Gomez' new album 'Stars Dance' below:
'Birthday'
'Slow Down'
'Stars Dance'
'Like A Champion'
'Come & Get It'
'Forget Forever'
'Save The Day'
'B.E.A.T.'
'Write Your Name'
'Undercover'
'Love Will Remember'
Listen to a new song from Selena Gomez called 'Slow Down' below: