Watch Selena Gomez And Cara Delevingne's Birthday Serenade To Kendall Jenner
4 November 2014, 11:35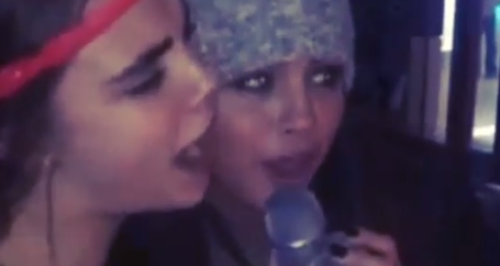 Feud? What feud? Looks like this trio are back to being best friends for life!
Looks like all those rumours of a feud between Selena Gomez and Kendall Jenner were just that… RUMOURS! Because judging from this video footage they're fast friends!
Supermodel Cara Delevingne shared a video on Instagram this week of herself and 'Come & Get It' singer Selena singing 'Happy Birthday' to Kardashians clan member Kendall at the weekend to mark the reality star's 19th Birthday.
Cara and Selena are seen belting out the chorus as Kendall blows out her birthday candles, before the trio embrace for a big ol' birthday hug! Aw, #BFFs4Life right?
Selena and Kendall were tight as could be earlier this year, even partying together at Coachella Festival, but rumour had it the #womance had cooled over rumours Kendall was quietly dating Selena's ex-boyfriend Justin Bieber. But clearly, the fences have been mended. Hurray!
Watch the duo in action singing their 'Happy Birthday' rendition to Kendall below: