Robin Thicke Says Miley Cyrus VMA Performance Had Nothing To Do With Marriage Split
28 February 2014, 08:13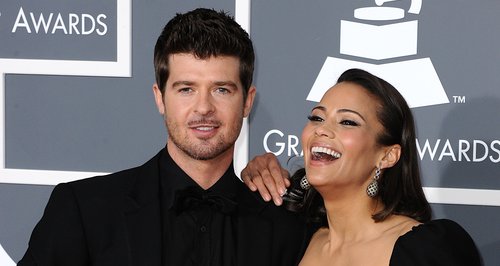 The 'Blurred Lines' man was questioned by reporters at the airport about his break-up with wife Paula Patton.
Robin Thicke has spoken about his recent marriage split with wife Paula Patton and denied it had anything to do with the controversial performance at the MTV Video Music Awards 2013.
The singer was seen grinding with Miley Cyrus in one of the most talked about moments in the history of the show.
TMZ paparazzi followed the star as he walked through the airport in Virginia and he told them: "I'm just trying to get her back".
He added that he's trying to figure things out as he headed for his next tour date.
Robin resumed his world tour this week after cancelling the first three dates and posted a message on his official site to thank fans for all their supportive messages.
Robin and Paula married in 2005 and have a son Julian who was born back in 2010.
You may also like...