Robbie Williams Says His And Dizzee Rascal's New Song 'Goin' Crazy' Sounds Like Queen
2 May 2013, 13:25
The 'Candy' singer also admits he "never felt more urban" then when he teamed up with the rapper.
Robbie Williams has been teasing his forthcoming collaboration with Dizzee Rascal on the rapper's new song 'Goin' Crazy' and said it sounds like Queen.
The 'Take The Crown' singer worked with the 'Dance Wiv Me' star out at his home in LA and said it was a "great night".
"I was expecting Dizzee to come round to my place in LA for an hour," he said. "He got round at 6PM, we chatted for hours and he left at 6AM. Then he said he wanted the song to sound like Queen. It was a great night."
Robbie added: "I have never been so urban. When I heard Dizzee wanted me, I was like, 'F*** yes!'"
The Take That man also said he knew the song would be great because "he only deals in bangers" and conceded that "life is getting shorter for me".
"The song instantly sounded like a smash. I love his vibe, his energy and he is a real talent. He seems to be the voice of his generation, so it was a no-brainer," he added.
Dizzee also told fans what to expect from the video and said he loved the mods and rockers theme.
Check out a picture from the video shoot below: (Picture:Rex)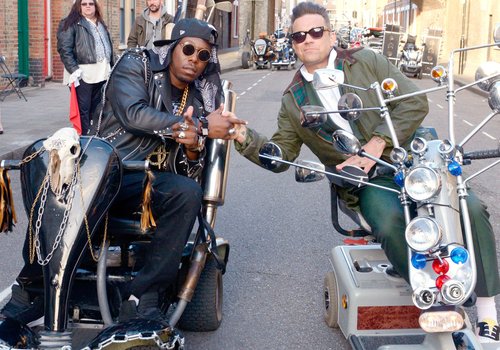 "As soon as I heard Quadrophenia, I was signed up for the video idea. The mods and rockers idea is right up my street," he said.
The rapper was also full of praise for Robbie, and said: "Having Robbie involved has been good. When his name came up, I was excited about it.
"We went to his house to record it. It's not often on these things you sit in the same studio any more."
Check out a picture from the video shoot below: (Picture:Rex)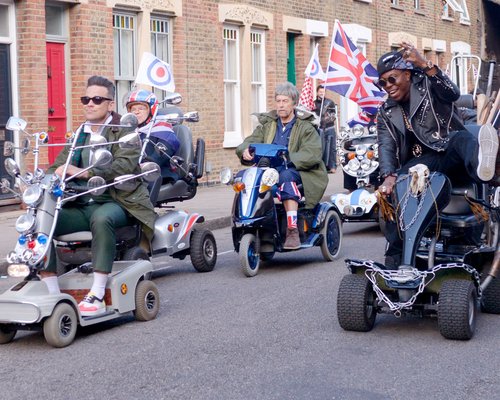 The song will be released on 17th June and will feature on Dizzee's forthcoming new album.
Meanwhile, Robbie is also currently working on his new swing album and will head to Wembley Stadium on 9th June for Capital FM's Summertime Ball 2013.