Rixton Bring Some Northern Charm To Their Debut #CapitalSTB Performance
21 June 2014, 20:19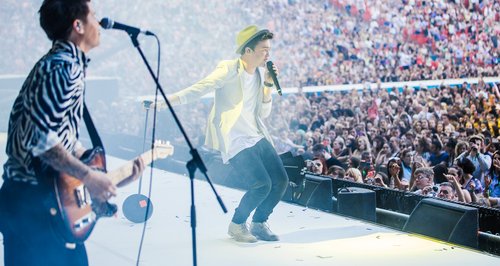 Our favourite Northern lovelies, Rixton, definitely got the female vote at Wembley Stadium.
Our new man crushes, Rixton, may have only recently hit the public eye, but their fan base was already out in force - there were definitely a few broken hearts after watching them being ALL kinds of fine on the main stage at Wembley.
Making their debut Summertime Ball performance in front of a crowd of 80,000, if the boys were nervous they definitely didn't let on. Performing their first single, 'Me And My Broken Heart', the lads from the North put on one hell of a show - definite STAR quality shining through!
Kicking off their performance with a massive "Hello wembley, how are you feeling over there?", the boys were pretty much DEAFENED by fangirl screams. We'd say the were feeling pretty good!
We love a man in a hat, and few can pull it off quite like Jake Roche - the cheeky frontman stole a lot of hearts with his cheeky winks to the females in the crowd. Yep, we spotted you Jakey!
Rixton's set list was:
Rixton tweeted their excitement at being asked to perform as one of our Breaker acts:
Wembley. We're on our way. @CapitalOfficial #summertimeball

— Rixton Official (@RixtonOfficial) June 21, 2014
Who's coming tomorrow? Make a sign if you're cool. A funny one though. More terrible the better.

— Rixton Official (@RixtonOfficial) June 20, 2014
Me and my LADS pic.twitter.com/GYZgskJTGF

— Jake Roche (@Jake_Rixton) June 20, 2014
Good luck today guys at summertime ball! You'll smash it! Proud off you :) @Lewi_Rixton @Jake_Rixton @Danny_Rixton @Charley_Rixton xx

— (@JodieLeee_) June 21, 2014
Someone get me Summertime Ball tickets... Rixton, 5SOS, The Vamps and Ed Sheeran. Wow :)

— •Rixton• (@holly_m_rogers) June 15, 2014
rixton are gonna play at summer time ball, and wow, like, wow, so freaking proud, insane

— ashley prenza (@ashley7th) June 15, 2014