EXCLUSIVE: Rixton Talk #CapitalSTB 2014... And Their Naked Antics!
20 June 2014, 10:47 | Updated: 20 June 2014, 10:49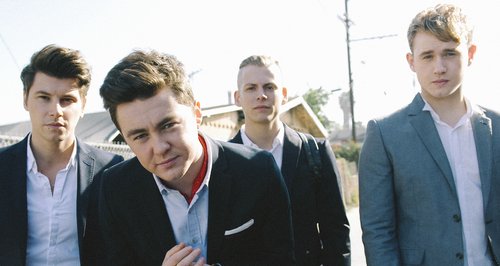 We caught up with the lovely Rixton boys ahead of their performance at this year's Summertime Ball to discuss the important stuff, like what they like to do naked…
When we announced Rixton as one of our Summertime Ball Breakers, Twitter went into meltdown with ticket-holders fangirling all over the place for the hottest new band around.
So we grabbed the boys for a quick chat ahead of the #CapitalSTB to discuss all the important things about performing in front of a crowd of 80,000 people, such as what they like doing in the nude! This is important research, obvs.
The Rixton lads are looking forward to their debut Summertime Ball performance at Wembley, but they seem to be taking it all in their stride.
Jake Roche told us, "We're really excited, it's going to be a lot of fun. We're not really that nervous, are we?"
Lewi Morgan also told us it is their biggest gig to date, "It's three or four times bigger than the biggest crowd we have played for which was at the Brooklyn Centre." Well, it is Wembley Stadium after all!
Our Summertime Ball-ers are a friendly bunch, and Ed Sheeran had been on the blower to the boys – he is one of the acts they are most looking forward to so it was kind of a big deal.
Jake told us, "I spoke to Ed last night, Ed Sheeran, and we're really excited to see him. We are excited to see everyone really! I think at first we might feel a little out of our depth 'cos this is huge."
Danny Wilkin is optimistic for the day, however, telling us, "I think we are just gonna smash it. Positive thinking and all that."
The boys are on the bill with some of the UK's biggest artists, but will the lads be hunting down a certain Miss Cheryl Cole backstage? Jake told us he certainly will, Lewi added, "We've got a spear ready." – it may be time we informed security….
Then we got on to the REALLY serious stuff. There have been rumours that the boys recorded some of their album starkers, so of course we had to find out what else they enjoy doing in the nude. It would be rude not to!
Danny explained, "We did a song called Make Out and there are chanty vocals in the middle, and it had been a long day and it was the middle of summer so it was nearly 40 degrees.
"It was just so hot and everyone was so fed up. All four of us were in the booth together and it was only a tiny little booth so it got even hotter and they said 'Right, we need to do these vocals but we need more energy, we need more energy' and Benny [Blanco] just went 'Just take all your clothes off! Take them off, just take them off!' so we did.
"I kept my socks on though," he added.
Recording isn't the only thing the boys prefer doing in the nude – Charley admitted that they like to watch the football in the nuddy too! (Definitely makes the World Cup a whole lot more appealing, we think!)
And the final bit of important research: who looks the best naked? Jake told us, "Probably Charley, the tattoos help." Charley responded, "Just the tattoos is it?" to which Jake claimed, "Yeah, just the tattoos!". Now, now boys!
The Countdown To The #CapitalSTB Is ON!
You may also like...