Rita Ora Opens Up On Fifty Shades Of Grey Role: "It Took A Lot Of Dedication"
25 April 2014, 08:42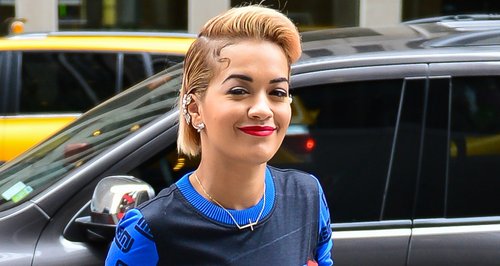 The UK singer also reveals which film star distracted her the most while shooting the new movie.
Rita Ora has opened up about her co-starring role in the Fifty Shades Of Grey film adaptation, and says it was a fantastic experience that she would do "all over again".
The 'I Will Never Let You Down' singer describes the experience as a "good learning curve", after shooting her role as Christian Grey's sister Mia Grey for the E.L. James adaptation.
"She's honestly one of the ones that loves her brother for whatever," Rita revealed to MTV News this week. "She doesn't know about his fantasies yet, but she's extremely involved and loves him.
"It was a good learning curve for me, I prepped for the role by learning some French first of all, by learning an American accent and by really just not being me," Rita explained. "I had a brown wig on and I was being the smart girl that came from French school to see her family.
"So it was just a lot of dedication, it was like going back to school," the UK star explained.
Rita went on to reveal that one of her favourite parts about working on the film was getting to hand out with star Dakota Johnson, as well as the off-set antics that went on.
"She's just so gorgeous and it kind of distracts you a little bit, but I mean she's an amazing actress so I'm learning things from her," Rita added. "It's always a good time, you don't want to work under a pressured environment, especially when you're making something creative.
"I would do it all over again," Rita added.
Fifty Shades Of Grey, which stars Dakota Johnson and Jamie Dornan in its lead roles, is set for release in cinemas in February 2015.
You may also like: