Rihanna Responds To Katy Perry "Detrimental Entourage" Comments?
4 August 2013, 09:10
The 'We Found Love' singer's response comes after the 'I Kissed A Girl' star's interview with Elle UK.
Rihanna has apparently responded to recent comments from Katy Perry – who accused the singer of hanging around with a "detrimental entourage."
The 'Firework' singer was talking to Elle UK at the time and said her days of saving celebrities were over as she was asked her thoughts on the Bajan star.
"Rihanna doesn't need to be saved by anyone," a source close to the singer has reportedly told Hollywood Life. "The man upstairs is to whom she owes everything. That's who brought her here and that's who she's leaving with."
The insider also revealed that she still "adores" Katy and holds no bad feelings for the remarks made in her interview.
"Everybody has an opinion about something. Rihanna knows how to cut ties and cut them so sharp that your teeth bleed!" said the source.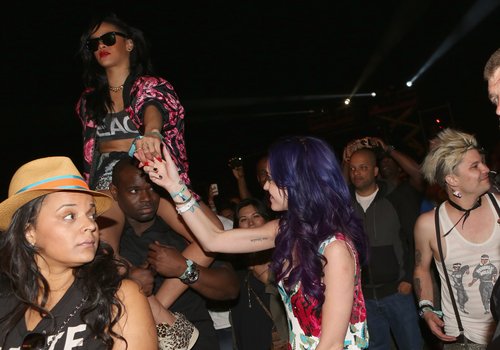 "She knows how to get rid of toxic people in her life. She's not a baby and has everything she could ever want or need in life. She's happy and thankful."
Rihanna currently has a month off from her 'Diamonds' world tour and recently debuted a new short curly hairstyle.
It's also claimed she could be set to head back into the studio after producer Nicky Romero teased a new song himself and David Guetta are working on for her.