Rihanna Covers Up As She Brings 'Diamonds' World Tour To Abu Dhabi
21 October 2013, 11:56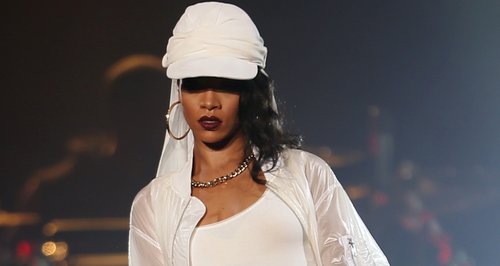 The 'Pour It Up' singer showed respect for the country's traditional dress code while arriving on tour there.
Rihanna covered up and toned down her usually risqué look over the weekend while bringing her 'Diamonds' world tour to the United Arab Emirates.
The 'We Found Love' singer adhered to the country's dress code of covering up when she took to the stage in Abu Dhabi on Saturday evening (19th October) on her latest tour date.
Rihanna kept her look demure in a pair of white tracksuit trousers and a tank top, while covering her head in a white fabric cap, although the Bajan star's trademark raunchy dance moves were still on show.
View a picture of Rihanna on stage in Dubai over the weekend below (Credit: Getty):
Earlier in the day Rihanna shared several pictures of herself posing for a shoot at several landmarks in the city, including one in front of the iconic Sheikh Zayed Grand Mosque.
Rihanna covers up while going sight-seeing in Abu Dhabi over the weekend (Credit: Instagram):
The 'Pour It Up' singer again following the country's strict dress code by covering up in a black hooded jumpsuit for the moody photoshoot.
Rihanna unveiled the artwork for her brand new single 'What Now' last week.