Is Rihanna Dating Drake? 7 Of Your Tweets Which Sum-Up The Latest Love Rumours
17 March 2014, 17:19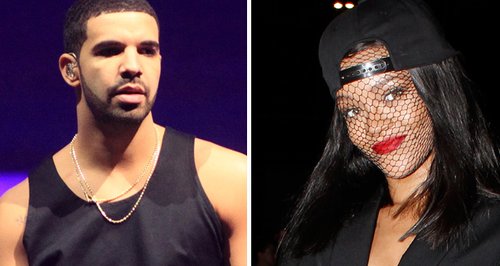 As the rumour mill heats up about 'What Now' star Rihanna and her 'Take Care' partner Drake, we reveal what all of YOU are saying about the potential romance.
Rihanna and Drake are facing increasing rumours that they are in a fresh romance together, after several dinner dates and nights out around the world over the past few weeks.
While the pair have dated in the past, this year it seems they may just have rekindled the flame and fans are speculating like wildfire across Twitter about whether the rumours are true.
From Rihanna joining Drake on stage in Paris for a duet last month, to their London date together last week, could these two global superstars be dating?
1. Sounds like this member of Rihanna's #Navy is VERY happy about the rumours this week...
FINALLY! Thank The Lord ! It's official my prayers have been answered ! Drake and Rihanna are officially dating #PowerCouple

— Ashley Elizabeth (@ashleypelitera) March 17, 2014
2. Although some don't seem to be so sure the 'Take Care' collaborators are destined to be soulmates
Drake and Rihanna trippin bruh. They made the song Take Care and think they're soulmates now

— Oreo (@bOaRsEdO) March 17, 2014
3. #Ouch
Rihanna and Drake waited till Chris Brown was in pen till they went public about their relationship, mad jokes still lol

— MIK (@ThatsMIK) March 17, 2014
4. Some of you out there are clearly feeling all romantic this week...
"@_OhVeeOhExOh: Rihanna + Drake = PERFECT COUPLEhttps://t.co/bCgOanB9JO"

— Mel (@fuckinnamazingg) March 15, 2014
5. Though looks like some of the Rihanna/Drake rumours are going a tad far
Drake said on the radio he wants to ask Rihanna's family for her hand in marriage!? WHAT THE FOK.

— Shánnon (@_iStan4Rihanna) March 14, 2014
6. Tell it how you see it!
Chris went back to Karrueche RIGHT after Rihanna left him. Rihanna waited a WHOLE year to date Drake. Now Tell me who the REBOUND is?

— JamesDeanOnTheLow (@RobynIsMyGal) March 12, 2014
7. Rihanna's fans are out in force on Twitter trying to find out the truth
Chris brown hurt cause Drake bouta propose to Rihanna pic.twitter.com/Dh1eWQkJHf

— (@JaelenWilson) March 14, 2014
8. What do you think? Are Rihanna and Drake dating again?!