"Really I Am Quite Shy": Rihanna Opens Up About Having Felt Like An Outsider
20 July 2015, 12:47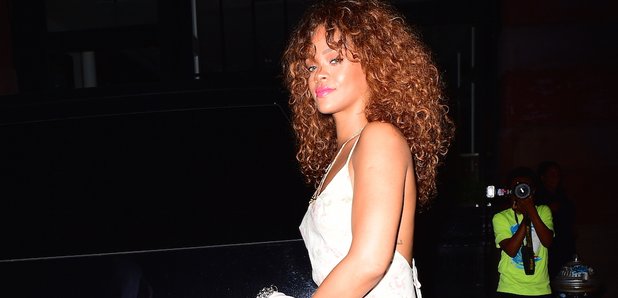 She may be one of pop's feistiest females, but even Rihanna admits she has suffered from confidence issues in the past.
She might seem like one of music's most fearless females but even Rihanna has admitted that she struggled with feeling like an outsider when she started in the music industry – and she claims she's actually quite shy!
Rihanna told the Daily Star, "People often misunderstand me. Really I'm quite
a shy person. At different points in my life, I've felt like the outsider. It always takes so much to overcome that feeling, like moving to a new neighbourhood.
"You have all these new friends. You're the outsider. As a kid that is really difficult, even at school. Then again it was difficult moving to America to do my music – I was a 16-year-old girl from the islands."
With RiRi making such a huge move at such a young age, she now splits her time between mainly being based in the USA and going home to Barbados in her time off. She explained, "For me, home is wherever I feel safe. It is anything that feels familiar and comfortable. Most of the time that means Barbados. It's warm and it's beautiful and I love the beaches, my family, the food and the music."
As RiRi is never afraid to push the boundaries with her image and controversial behaviour, she needs to have an understanding family around her – and her mum Monica is her best friend.
She explained, "My mother is phenomenal. Everybody feels that way and thinks their mother is the best mother ever, but I really believe that. My mother is so loving and she's caring and she doesn't judge you. She doesn't judge any of my friends, she just makes you feel safe."
Given that her career started at just 17 years old, Rihanna had known that she wanted a career in music from when she was a child. She said, "I just loved singing. I would say between five and eight years old I knew I wanted to be a singer.
"I wanted to make music that could be heard in parts of the world that I'd never been to. I was always sassy. I was like that at six years old and I was like that at four years old! But I was also shy – even to this day really.
"But when I'm comfortable with you, that's when you really start to see other colours of my personality coming out. That's when I feel comfortable enough to be vibrant and fun and say whatever I feel like saying because I know then that you probably won't be offended by a joke of mine or anything I might say."