Rihanna Flies Back To Barbados To Celebrate Her Grandad's 85th Birthday
6 November 2013, 10:05 | Updated: 6 November 2013, 10:08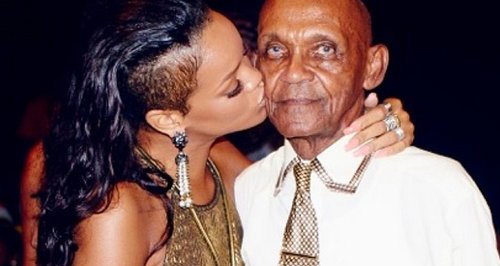 The 'Where Have You Been' singer posted up a load of pictures of the family occasion this week.
Rihanna headed back to Barbados this week to help her grandfather celebrate his 85th birthday in style.
The 'Diamonds' singer shared a number of snaps online of her and family celebrating her grandad Bravo's birthday over the weekend, after she flew back specially for the occasion.
"Threw Bravo a birthday ba$h at mama Fenty crib!! #85blessed yearz! Many more to you Grandfadda!" Rihanna tweeted alongside several pictures of the celebrations. "That face... #BravoBirthdayBash."
Check out a picture of Rihanna celebrating with her grandad this week below (Credit: Instagram):
This past week Rihanna was featured on Eminem's brand new single 'The Monster', that is already charting well on the iTunes UK chart.
View a snap of Rihanna and her grandad enjoying a dance below (Credit: Instagram):
Rihanna is set to round off her 'Diamonds' world tour later this month in New Orleans.