PSY Says Releasing 'Gentleman' Was "The Worst Week Ever" In His Life
27 April 2013, 08:46
The 'Gangnam Style' singer says he is "relieved" to not be called a one-hit wonder following the success of the new song.
PSY has said the week in which he released new single 'Gentleman' was the "worst week" of his life.
The K-Pop star said he was so nervous and terrified at the expectations which were upon his shoulders following the success of the 2012 viral sensation 'Gangnam Style'.
Speaking to MTV News about the track's release, he said: "I released it on April 12, and on April 13 I had a huge concert in Korea ... so that week, it was like hell.
"On Friday, I had to release the single, and on Saturday, I had to release the video, and I had to do a 50,000-person stadium concert. And that same week, on Monday and Tuesday, I did the shooting [of the 'Gentleman' video].
"And I was done with the shooting on Tuesday, and on Wednesday, Thursday, Friday, we were editing, and I was rehearsing and I was memorizing all the choreography. So that week was like the worst time ever in my life."
The singer also admitted that fears of being called a one-hit wonder left him perfecting the song up until the very last minute.
"I honestly changed this song so many times until the very last moment. I was not excited, I was terrible; I was so nervous," he said. "My only goal was to avoid being called a One-Hit Wonder."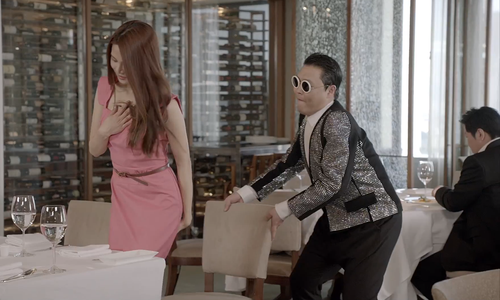 The track has since earned new YouTube records for most views in 24 hours and has over 200 million views within it's first week and a half.
He added: "So that was a very nervous moment right before the premiere; and in two weeks, with 230 million views, I'm not a One-Hit Wonder. I'm really happy and relieved about that!"
Meanwhile, PSY is among the stars who will be heading to Wembley Stadium on 9th June for Capital FM's Summertime Ball.
Taylor Swift, Robbie Williams, and Jessie J will also be on the line-up for the show, which is hosted by Justin Timberlake.