Pink Says Giving Birth To Daughter Is The "Coolest Thing That Has Ever Happened To Me"
15 July 2013, 12:49
The 'So What' singer speaks about how she thought that she'd never want children and was "terrified" by the prospect.
Pink has been opening up about motherhood to the Australian edition of GQ magazine and said how her daughter Willow is the "coolest" thing to have ever happened to her.
The 'Blow Me (One Last Kiss)' singer welcomed her first child in June 2011 alongside husband Carey Hart, but admitted she was initially "terrified" at having kids.
"She's the coolest thing that has ever happened to me," she said. "I didn't want kids. I was terrified. The relationship I had with my mother was really rocky at times."
Pink also revealed that even if she never tastes success as a performer anymore, she will be fully content with her personal life.
"If nothing else happened to me as Pink, I would feel really proud of what I've done," she said. "And I'd be totally OK and just have more babies, eat lots of cheesecake, ride my bike and give people the middle finger."
Check out a picture of Pink with her family below: (Picture: Flynet)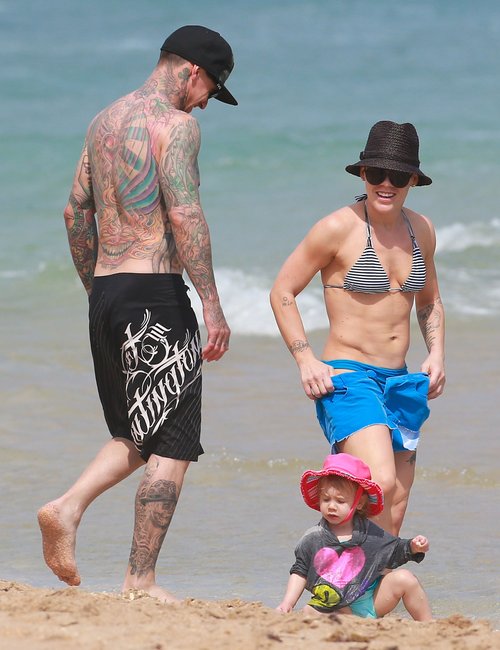 The US star also spoke about how she has sustained great longevity in her music career and the way she can relate to people.
"I figure the reason people like me is because they're going through the same s*** or can empathise," she added. "Ever since I was a little girl, I've been attracted to minorities, and I think that's part of the connection."
"I get the struggle."
Pink also recruited her family to star alongside her in the music video for new song 'True Love' – which features Lily Allen.