#Directioners Rally Around Zayn Malik As He's Signed Off From 1D's Tour With Stress
20 March 2015, 10:48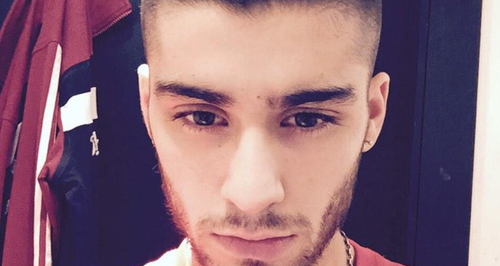 He may be having a terrible week, but Zayn can always rely on the love and support of the band's loyal group of followers to cheer him up.
Poor Zayn Malik is not having a good week - as well as being asked to post bonds of £3000 in order to be allowed into the Philippines, photos then emerged of him costing up to a blonde that was not Perrie Edwards whilst in Thailand.
He's since been signed off from the rest of the Asian leg of the tour with stress - but his loyal group of fans, the Directioners, have been on hand to offer support to Zayn during this though time.
The fans spoke out on Twitter to offer their support:
TMRRW WILL BE A GREAT DAY TO ALL FILIPINO DIRECTIONERS EVEN ZAYN WONT BE HERE BUT LETS PRAY FOR HIM TO HAVE A GOOD REST.

— (@nxrryapocalypse) March 20, 2015
zayn saved us now we need to save zayn #ZaynStayStrong #HaveAGoodRestZayn pic.twitter.com/IYqeXhzmcr

— n loves zayn,,!! (@hutcherzarry) March 20, 2015
idc zayn can take a 50 year break i will always be here for him to support him. i want him to take all the time he needs #HaveAGoodRestZayn

— shane (@irishbabenixll) March 20, 2015
Mum: "hey where are you going" Me: "to the UK to cheer zayn up" Mum: "but you can't drive th-" #HaveAGoodRestZayn pic.twitter.com/w46vAwE1s1

— ~beyoncé~ (@zarryaffection) March 20, 2015
I HOPE THEY HEARD THE FANS CHANTING FOR ZAYN AND THEY CALLED HIM OR RECORDED IT FOR HIM

— pcd (@kingofpxyne) March 20, 2015
Yesterday we all died a bit inside when zayn just left the tour for a bit, just imagine when they all break up. I won't be able to handle it

— emma (@stylesyonce) March 20, 2015
RAISE YOUR HAND IF YOU LOVE ZAYN AND WILL SUPPORT HIM NO MATTER WHAT #HaveAGoodRestZayn pic.twitter.com/Tr3PP9OoFw

— liam (@paynswodka) March 20, 2015
Mom: where are u going? Me: going to UK zayn needs me !!! #HaveAGoodRestZayn pic.twitter.com/qrMKvj12YK

— pat // #TEAMLABAS (@PAKYUHARDNIALL) March 20, 2015
With fans like these, we reckon you'll be just fine Zayn!
You May Also Like: