One Direction On Meeting Actress Rosie Huntington-Whiteley: "She's Really Cool"
2 July 2013, 17:15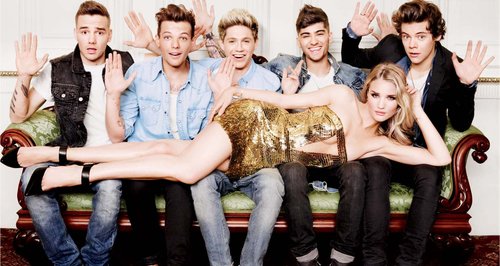 The 'Little Things' star share a cover with the Transformers star for a magazine's new issue.
One Direction have described their fellow Glamour magazine cover star Rosie Huntington-Whiteley as "really cool", after meeting her as part of the new feature.
The 'Kiss You' five-piece feature alongside the Transformers actress on the magazine's new issue cover, and band member Liam Payne admits he was quite nervous when meeting her for the first time.
"She was lovely, really cool," Harry Styles told Glamour, when asked about their fellow cover star.
"I'm not the best at talking to women," Liam Payne admitted. "When you're with someone like Rosie, it's a bit more difficult.
"I was like, I don't really know what to say so I'm just going to kind of stand here and try to be cool!" he added.
Check out a picture of One Direction and Rosie Huntington-Whiteley on the cover of Glamour this month below (Credit: Matt Irwin/ Glamour):
The 'Live While We're Young' four-piece announced details about their new single 'Best Song Ever' last month, which is set to be unveiled soon for official release on 22nd July.
One Direction will then premiere their new 3D concert movie This Is Us next month.
Check out the full cover of One Direction in Glamour below (Credit Matt Irwin/Glamour):