EXCLUSIVE: Ed Sheeran Says 1D Sound "Really Good" On His New 'FOUR' Song
15 October 2014, 11:36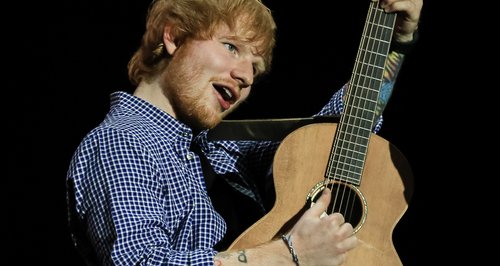 The 'Thinking Out Loud' star chats exclusively to us about 1D... and Simon Cowell!
Ed Sheeran has revealed ALL about the song he has on One Direction's new album, and says the boys sound "great" on the track, which features on their next record 'FOUR'.
The 'Don't' singer has written songs for the UK boy band in the past, but says he's particularly proud of the new song, titled '18'.
Ed Sheeran on the new One Direction song he wrote...
"I'm really happy with the record that I wrote for them," Ed exclusively told Capital's showbiz reporter Kevin Hughes on his UK tour show in London last night (14th October). "It's the first record I've actually specifically written for them.
"The other ones were my records that just didn't make it only my album, just because I had too many slow songs," he explained. "But this one, I remember I had a meeting with them and he said we need a song. And the day after I wrote it and sent it over, and they sound great on it! It's good."
The 'Sing' star ALSO opened up on his views about X Factor boss Simon Cowell, and says he's a big fan of the famously critical talent show judge.
Ed Sheeran on his verdict on Simon Cowell...
I really like him, man. I really like him. I like his demeanour. He's a very cool, calm, collected character and just says it like it is," he explained. "There's not americanisms to him. The American industry can kind of feed you a lot of stuff but it isn't actually the truth. He just says it like it is.
"There was one thing we had to talk through that wasn't my ideal situation but he made me feel better about it within about three minutes. He's a very clever guy," Ed added.
Ed Sheeran is currently touring the UK in support of his latest album 'X', and dropped his music video for new single 'Thinking Out Loud' last week.
One Direction will release their brand new album 'Four' on 17th November and you can pre-order it right here.
What do you reckon, Directioners? Are you excited for One Direction's NEW album 'Four'.
You May Also Like…