One Direction Launch New Fragrance That "Smells Like A Summers Day"
7 June 2013, 11:38
The 'Kiss You' singers launched their debut fragrance at the Gherkin in London yesterday.
One Direction has launched their first fragrance called 'Our Moment'.
Harry, Zayn, Niall, Liam and Louis have been teasing fans with the details of the pink coloured perfume on Twitter.
Yesterday Harry tweeted fans: "The 1D fragrance is called (drumroll)… Our Moment! And it smells like a summers day."
The boys reportedly chose the combination of: pink grapefruit, wild berries, redcurrants, jasmine petals, fresh freesia, frangipani, creamy musk, sheer woods and white patchouli to make up 'Our Moment'.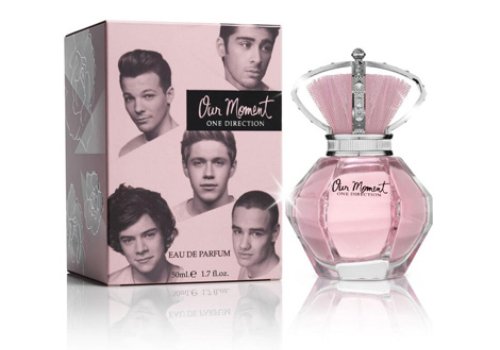 Niall also tweeted to his followers about the new perfume: "I still can't believe we're releasing our own fragrance!"
He added that they had worked hard to get it smelling just right.
The fragrance comes in a glass bottle with a silver crown on top as the lid and sits in a pink box with the boy's faces on.
At the perfume launch Harry explained where the name for the fragrance came from.
"Obviously we have a song called Our Moment," he said. "I think it's a great thing between us and the fans. We had a brainstorm and we… went with a thing."
The perfume will go on sale in Harrods on 25th August and nationwide from 9th September.
Meanwhile, One Direction's 3D movie 'This Is Us' is due to be released in UK cinemas on 29th August.