One Direction Film Frenzy Forces Increase In Security At US Cinemas?
5 August 2013, 11:41
The 'Little Things' stars big screen debut across the pond caused chaos in Los Angeles.
An advanced screening of One Direction's debut film This Is Us saw police called after an overwhelming number of fans descended upon the theatre in Los Angeles.
Officers were forced to evict hundreds of fans from the Grove Pacific Theater.
The Daily Mirror caught up with one of the mums who was in attendance for the showing.
"They charged and went straight past the ticket takers screaming, 'Let us in! Let us in!'," explained Lizette Van Patten. "I've been to lots of premieres and seen people go crazy over Johnny Depp and Tom Cruise, but nothing like this.
"One Direction are like the Beatles of this generation."
Check out a picture of One Direction on stage this week as they show their support to the San Jose Sharks hockey jerseys below: (Picture: Splash)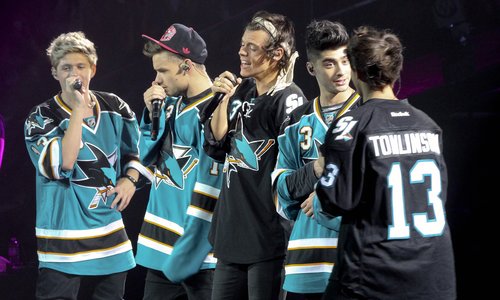 The publication also got confirmation from a cinema worker that security will be increased around the release of the film.
"They're talking about paramedics too, because we had some girls who were shaking and crying so much they were hyperventilating," the staff worker said. "The management reckon this will roll out across the nation."
This Is Us will see its world premiere in London on 20th August with the film heading into cinemas on 29th August.