One Direction Echo Tom Cruise In Tropic Thunder For Latest 'Best Song Ever' Trailer
20 July 2013, 08:34 | Updated: 20 July 2013, 08:37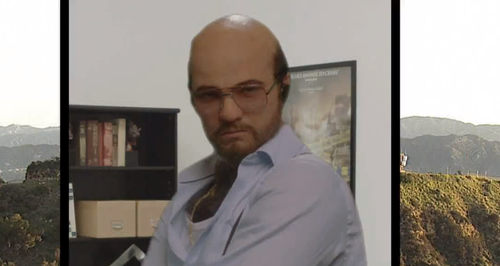 The latest clip sees Louis Tomlinson undergo a dramatic change for the teaser clip.
One Direction star Louis Tomlinson underwent a dramatic transformation to look just like Tom Cruise's character in the hit movie Tropic Thunder for the group's new video for single 'Best Song Ever'.
The 'Little Things' star has Les Grossman's trademark balding hairline as well as the glasses and chest hair.
"It's gonna be amazing," is all he says in the clip and his appearance comes following the teasers for a very geeky Harry Styles, a flamboyant choreographer in the form of Liam Payne and an old studio executive with Niall Horan.
The group debuted the full song on Capital FM during a worldwide first play yesterday (19th July).
Watch One Direction's new trailer for the 'Best Song Ever' video.
Fans went wild for the track saying they were "in love" with the new material from the boys.
The track is the first to be taken from their new studio album and will be released on 22nd July.