One Direction Debut New Song 'Best Song Ever' In Latest This Is Us Movie Trailer - Video
25 June 2013, 16:43 | Updated: 25 June 2013, 17:39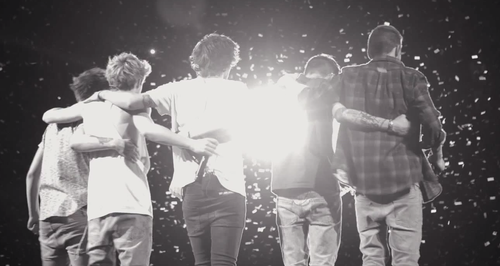 The 'Live While We're Young' singers unveil an extensive movie traile for their 3D documentary film.
One Direction have debut a snippet of their brand new song 'Best Song Ever' in a trailer for their upcoming 3D concert movie This Is Us.
The 'What Makes You Beautiful' stars announced plans this afternoon to release a new song in July to promote their film, which is directed by Morgan Spurlock, and gave fans their first listen to the song in a newly unveiled trailer today (25th June).
The trailer sees Harry, Liam, Niall, Zayn and Louis opening up about the dramatic life change of being part of One Direction, after the five boys achieved world-wide fame with their past two albums.
"When I was little I knew that I wanted to entertain people," Harry is heard saying in the trailer, while Zayn reveals: "It'd be like three in the morning and I'd be singing at the top of my voice, that was where it kind if started.
The 'Live While We're Young' singers are seen live in concert, trying out their wardrobe, planning their live shows and travelling the world in the the new promo spot.
The trailer for This Is Us then ends with a snippet of brand new song 'Best Song Ever', which features the song lyric hook: "And we dance all night to the best song ever".
Check out a picture of One Direction in the new trailer below:
One Direction are currently out on tour across North America on their 'Take Me Home' world tour, which called at Atlanta, Georgia over the weekend.
One Direction's new single 'Best Song Ever' can be pre-ordered from midnight tonight (25th June) while it is set for official release on 22nd July.
This Is Us 3D will be out in cinemas across the UK from 29th August.
Watch the newly unveiled trailer for One Direction's This Is Us below: