One Direction Hoping To Write New Songs For 5 Seconds Of Summer?
6 March 2014, 09:55 | Updated: 6 March 2014, 09:56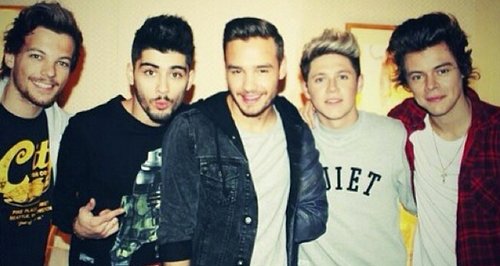 The 'Best Song Ever' stars are said to be keen to expand their songwriting portfolio to other acts.
One Direction are reportedly planning to branch out and write songs for other pop groups in the future, after both 5 Seconds Of Summer and Neon Jungle revealed they have discussed track ideas with the band.
Band member Calum has now revealed that he and One Direction's Niall Horan were hoping to work on some song ideas when they get the chance.
"We found our common ground was Busted," Calum Hood from 5 Seconds Of Summer revealed to the Daily Star this week. "So there's a few pop rock ideas kicking around already.
"We'd love to make it happen," he added.
Neon Jungle also opened up about hoping to write a song with regular One Direction songwriters Liam Payne and Louis Tomlinson.
"Liam Payne knew who we were and said he was listening to our song in the car," Neon Jungle's Amira McCarthy also revealed to the publication. "He said that he'd really like to write for us, so we're waiting for the song."
One Direction are currently working on their own new album which Liam has described as a "game-changer'.