Dad And Boujee! Liam Payne Has Been In The Studio With Migos For His Debut Solo Album!
20 April 2017, 15:52 | Updated: 21 April 2017, 09:32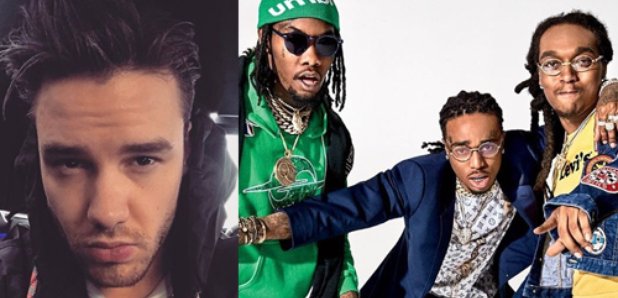 It's all sounding really, really amazing so far!
It feels like we've been seeing pictures of Liam Payne working on his solo music in the studio forever and we've been patiently sitting here waiting for a single, album or anything to emerge.
Well whilst we still don't have any music to listen to, we do have some new info about what kind of sound we can expect to hear when music is released and now we're overly excited!
It turns out Liam has been in the studio with Migos - aka the masterminds behind 'Bad and Boujee'. An insider told The Sun, "Working with Migos is a big deal.They are one of the most highly regarded hip-hop groups in the world. The collaboration will help push his name out beyond 1D fans in the States.
"Liam wants his solo music to sound like a mix between Justin Bieber and Drake. It's definitely not going to be a hip-hop album. He has worked with so many different producers and artists. But what's for sure is that his songs will sound very, very different to what Harry Styles has put out."
Another person who has been in the studio with Liam and has revealed a bit of info is Digital Farm Animals, whose smash hit 'Millionaire' alongside Nelly dominated the airwaves throughout 2016.
Speaking to a tabloid recently, Digital Farm Animals claimed, "I've been doing a lot with Liam. I've not heard much of the other stuff that he's been doing but I can say he is really talented. He writes very well, he's also started producing as well."
"He just comes up with these great ideas so it made sense for him to have more control, I guess. I kind of helped him, the stuff that we have been doing I helped produce it, showed him some things and we wrote it. I mean he has so many talents that people don't know."
Discussing the genre of Liam's upcoming album, DFA revealed, "I have no idea when it will come out, but we have been working on a few bits together. He is doing a lot of R&B stuff but he's also dipping into dance. The things we are doing are definitely down the dance lane."
Ooh super exciting - now if we could get a release date and a sneak preview of the tracks that would be great thanks Liam!
You may also like...