We Have *Way* Too Many Questions After Watching The Video Of Harry Styles On The Set Of 'Dunkirk'
12 July 2016, 12:02 | Updated: 12 July 2016, 17:50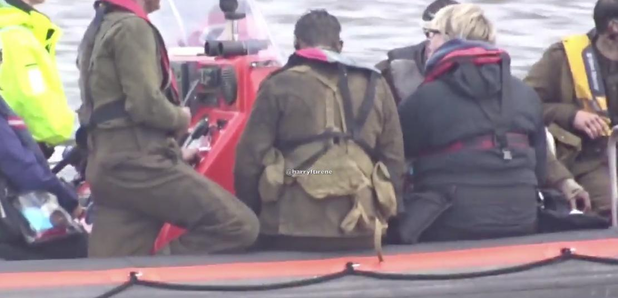 Harry has a lot of explaining to do after this on set footage of him emerged.
So most people will know by now that Harry is currently filming scenes for his forthcoming acting role in the film 'Dunkirk'.
When he was cast in the World War Two movie, we weren't expecting to get any vids this random but it's happened!
I don't know what he was doing but we all know Harry is a special flower pic.twitter.com/9QVCO4cPlE

— irene (@harryftirene) July 11, 2016
Whilst on a boat with his fellow actors, Harry can be seen doing a very interesting 'dance' and shaking THAT bum.
Is Harry recreating the music video for Jason Derulo's 'Wiggle' or is there another reason for his hypnotically addictive moves?
Well it seems that pouring some water down his back had something to do with his strange dance. He probably needed to cool down because he was looking HOT in that uniform, not like we hadn't noticed!
this is why harry kept wiggling his bum pic.twitter.com/zAKJBJstCd

— irene (@harryftirene) July 11, 2016
But will we ever find out the ACTUAL reason for this the #HarryWiggle? We really want to know!
His new look short hair was also on full show during filming too and it seems as though the 1D lad was having a great time on set.
With filming set to continue for a while yet, let's keep our fingers crossed for more great Harry Styles BTS footage!