Olly Murs Saw Ashton Kutcher On Chatroulette And Talks Meeting Mila Kunis - Audio
12 March 2013, 08:11 | Updated: 12 March 2013, 10:31
The 'Dance With Me Tonight' singer speaks about his embarrassing encounter with the Ted actress recently.
Olly Murs has opened up about meeting Mila Kunis recently on The Graham Norton Show and revealed how he once saw her boyfriend Ashton Kutcher on Chatroulette.
The 'Troublemaker' singer told Capital FM that he was thrilled to get a picture with the Hollywood star and revealed how she made a joke about his publicised crush.
He said: "I managed to speak to one of the runners and said you know I'd like to get a picture with Mila and they said 'that's fine, she's waiting anyway'.
"I walked in and she says 'hello Mr. ex-husband". I was like 'I'll be your ex-husband any day'. I don't mind having a six-month relationship and you can just dump me and divorce me – that would be amazing."
He also explained how he is "100%" sure he came face to face with Ashton on Chatroulette despite his friends' doubts.
"I remember seeing him ages and ages ago on chat roulette. 100% - I'm gonna take that to my grave because no one believes me," he said. "But one day I went on chat roulette for a laugh and I flicked theough and I saw Ashton Kutcher.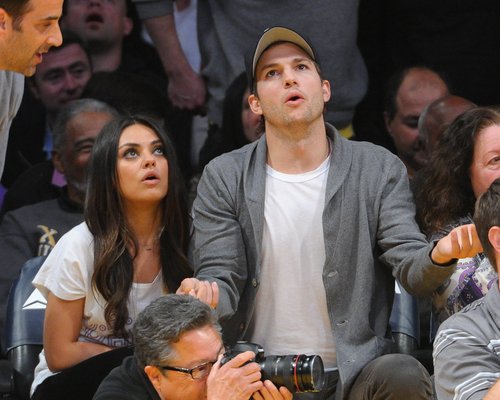 "He'll probably deny it but I swear it looked the spitting image of him. He was wearing a hoody and trying to be all cool."
He also revealed how some people can sit on the fence with their opinions of Mila and confessed he thinks she's the "sexiest" girl in the world.
Olly added: "I don't know if she's the hottest girl in the world, but she's the sexiest girl in the world."
Listen to Olly Murs speaking to Max about meeting Mila Kunis and Ashton Kutcher below:
Olly Murs talks Mila Kunis and Ashton Kutcher

Meanwhile, Olly is currently on the road on his latest UK arena tour and will also be supporting Robbie Williams on a series of stadium dates this summer.