Nicki Minaj Opens Up About Recent Style Change As She Launches Kmart Clothing Range
6 March 2013, 11:10 | Updated: 6 March 2013, 11:30
The 'Starships' rapper says she is trying for a "natural, sexier look" as she glams up for red carpet.
Nicki Minaj has opened up about her recent style change after toning down some of her more extreme outfits in recent weeks.
The 'Pound The Alarm' star launched her new clothing line with Kmart this week, and told Us magazine she's in a new transitional phase of her appearance.
"It's just a more, I would say, a sensual, natural, sexier look. Like to me, I did the Harajuku stuff. I did the crazy stuff. And now I kind of want to tone that back, and it's not toning my personality back, it's just showing like I don't only have to do that," she explained.
The comments come after it was reported she sacked her entire style team recently.
Speaking about her new line, she also told the publication that she wants to ensure "women in general" can wear her designs.
"With me doing the clothing line now, it's like I definitely don't want people to think, 'Oh, well, she's only going to have crazy stuff in her line," she added. "I want them to know I'm doing this for women in general, to feel beautiful and sexy, and all of these dresses that I've been wearing lately, any woman can wear it and feel confident."
Check out a picture of Nicki Minaj at the kMart fashion range launch in Los Angeles below: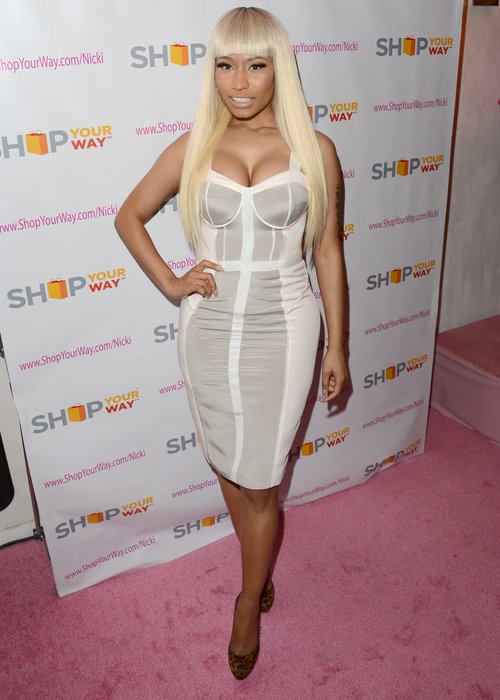 Meanwhile, the rapper is also preparing to head over to the UK this month for the launch of her Pink Friday perfume range at Selfridges in London.
The Trinidad-born star debuted the new bottle designs which will accompany the new editions of her fragrance to fans on Twitter this week.