Meek Mill Threw Shade At Nicki Minaj After Their Split With The Worst Comeback In History
6 January 2017, 16:00 | Updated: 6 January 2017, 16:16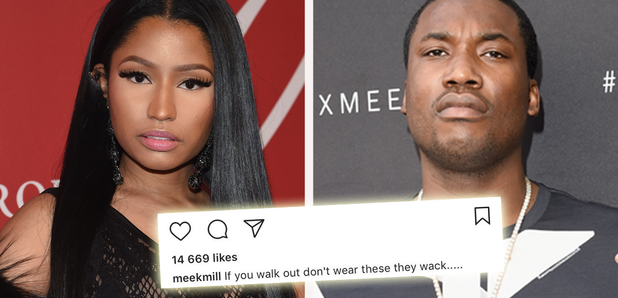 This is just too painful.
Their relationship was very well documented and it seemed like they were going to stick together through thick and thin, but Nicki Minaj recently announced that she and Meek Mill had split.
They'd been together for almost two years and had survived rapper Meek being put on house arrest as well as his much hyped beef with Drake, but it seems they just weren't meant to be after all.
Picture: Getty
Confirming the split on 5th January, Nicki tweeted...
To confirm, yes I am single. Focusing on my work & looking forward to sharing it with you guys really soon. Have a blessed New Year. Love u

— NICKI MINAJ (@NICKIMINAJ) January 5, 2017
But whilst Nicki was mature and civil about the whole thing, it seems that Meek Mill wasn't in the mood to be nice about the break up. In an Instagram post, which he has since deleted, Meek posted a picture of a shoe alongside the caption 'If you walk out don't wear these they wack...'.
aint meek mill's whole career wack tho? pic.twitter.com/vVY1fdBVv7

— caribbottom (@mannyjay_) January 5, 2017
The shoes in the picture happen to be the same pair that Nicki wore in the video for her 2013 track with Ciara called 'I'm Out', which just so happened to be a break up track.
u wack actually @MeekMill pic.twitter.com/sZekIG6luW

— Mrs.B (@sarahfiercee) January 5, 2017
After most people felt that Meek lost his battle with Drake, we're surprised that he's decided to go after Nicki so soon after their split. But it's the poor quality of his comeback that has shocked us the most. We're not impressed by this behaviour Meek and it just makes Nicki look more like she's the bigger person.
Onwards and upwards for you we say Miss Minaj.
You may also like...