Erm, Did Nicki Minaj Just Drop A HUGE Hint That She & Meek Mill Are Engaged After All?
29 December 2015, 09:41 | Updated: 29 December 2015, 09:48
It looks like the 'Anaconda' star is looking for wedding inspiration – and she's recently got another MASSIVE diamond ring from her man…
So do we need to go buy a hat or not?! Nicki Minaj and Meek Mill have dropped another pretty big hint that a wedding (or at least an engagement) could be on the way before too long as the rapper took to Twitter to ask for some wedding venue inspiration...
Nicki took to Twitter to ask her fans whether they think a beach wedding or a church wedding is better, just a couple of weeks after she was given yet another MASSIVE diamond ring from Meek...
RT for beach wedding. Fave for church wedding.

— NICKI MINAJ (@NICKIMINAJ) December 27, 2015
The pair previously denied they were engaged back n May when Nicki posted a photo of a huge yellow diamond heart ring on her wedding finger, and it looks like her generous boyfriend has done it again with yet another big old diamond ring which she posted with the caption, "Now this is what I'm talking about baby. Lol. Love u @meekmill ~ RANG finga whr da rock iiizzzzzzzz"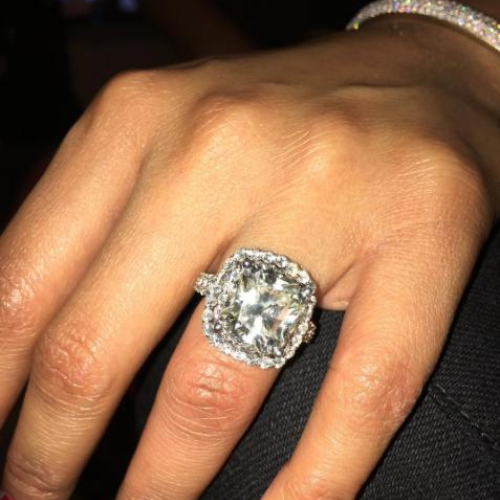 When she got the first ring, Nicki revealed to Billboard, "He and I are not engaged, but he said he would like to give me three rings before we get married. My birthday's coming up, and he better get the new one, because he got [the first one] for my last birthday. So let's see what happens."
Fans began speculating that wedding bells might be on the cards for Nicki Minaj after the singer posted a cryptic message on Twitter in April hinting at an engagement – followed by a picture of a GINORMOUS ring on her wedding finger, but Meek later denied the pair were actually engaged.
However, in an interview with Fader magazine, Meek denied the pair were engaged despite having gifted Nicki with the AMAZING ring, rumoured to be worth around $750,000.
He said, "I ain't engaged. It's definitely real, but it ain't really time to get married yet. We're still learning each other, feeling each other out."
The first time the couple officially confirmed they were together was when Nicki took to Instagram in April and posted a lovely snap of the two of them together and a snapshot of their text conversations – too cute!
April 15, 2015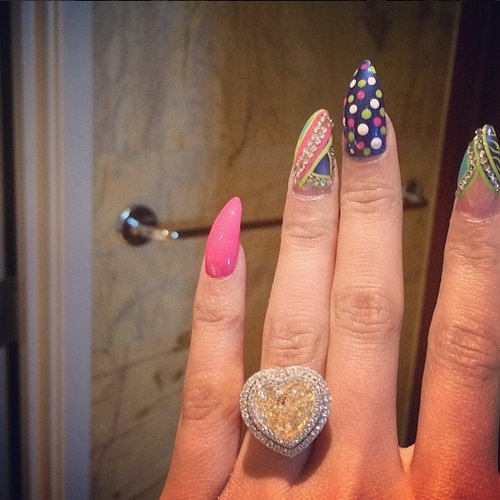 She then teased fans on Twitter by posting three emojis – the engagement ring, a yellow heart and a diamond – followed by the message 'I'll post it later' with a tongue icon.
Four hours after getting fans in a frenzy with the romantic themed emojis, Nicki posted an Instagram post of a giant yellow heart-shaped diamond ring on her wedding finger – exciting!
- I'll post it later

— NICKI MINAJ (@NICKIMINAJ) April 15, 2015
Nicki and Meek Mill have only been dating for less than a year, but it looks like it's definitely love – and that is a SERIOUS piece of bling!
Meek explained that the pair hadn't even told friends they were officially together at the time, as rapper TI revealed, "You never asked her, 'Will you be my girlfriend?' But she is your girlfriend. You may not have asked her, 'Will you marry me?' But you are engaged."
Meek previously opened up about his feelings for Nicki to XXL Magazine saying, "Yeah, that's my baby right there. Yeah, I tell her that. I'm like, 'I don't really hold hands, but like, I'll hold hands with you.' She know that."
"Like, I don't really do things, but certain people make you do certain little stuff and it be like, 'S***, I don't care.' They can catch me in the pictures doing anything nowadays, holding an umbrella for Nicki, you know what I'm saying? I got the girl that I wanted, not what they wanted, you know what I'm saying? What I wanted."
As well as being perfect partners in their personal lives, Nicki enlisted Meek as the opening act on her The Pinkprint Tour and he features on two of her songs on her 'The Pinkprint' album.