Everyone Thinks Nicki Minaj Is Dating Lewis Hamilton After Couples Dubai Getaway
25 September 2018, 12:11 | Updated: 25 September 2018, 13:51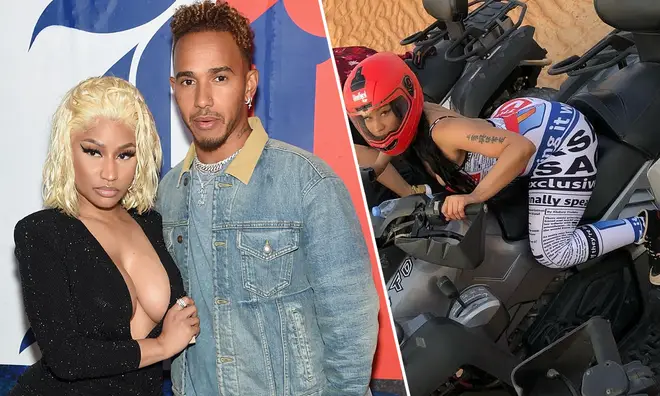 Nicki Minaj and Lewis Hamilton have got everyone thinking they're together by hanging around fashion week together and then jetting off for a holiday in Dubai... that sounds very couple-y, doesn't it?
Nicki Minaj and Lewis Hamilton might be the strangest new celebrity couple we've encountered in a long time, but we're totally here for seeing where this one goes, that is, if they're actually dating (which they totally are).
WATCH: Nicki Minaj And Cardi B Seemingly Fight In Surfaced Video
After hinting she has a new man for some time now, people are starting to narrow down just who it could be, and all signs point to the Formula 1 racing champion, our very own Lewis Hamilton, who she is currently on vay-cay with.
Firstly, they were sat next to each other at New York Fashion Week, looking pretty close together as they posed for photos, which raised a few eyebrows, but now, as they dirt bike around the desert in Dubai together and walked through hotel lobbies doing the whole 'we're totally staying in the same room but are going to pretend we don't know each other' thing, people don't need any more convincing.
Also, it's great when celebs try to be slick and don't quite get away with it- Nicki took to Instagram to show off her extravagant outfit when eagle eyed fans spotted a sheepish looking Lewis Hamilton in the mirror's reflection at the back of the hotel room.
Sweet, sweet, victory. We see ya Lewis.
It was during her latest stint on Ellen she admitted there was a 'new boy', telling the host: "There's a newer… yeah fairly new. He's been around for a couple wigs. But I don't have a boy".
So, is this the start of another transatlantic love story? Does this mean Nicki is going to be hanging out the UK more, because we'd be totally fine with that.
>Download Our Brand New App For All The Latest Nicki Minaj News