Niall Horan Just Recreated An Iconic 1D Pic With Fans & We're Not Crying, You Are
28 March 2018, 11:21 | Updated: 28 March 2018, 11:44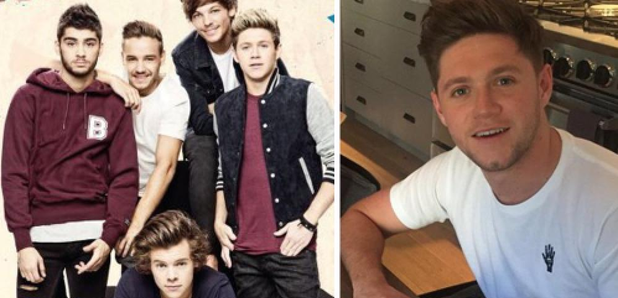 Yet another reason why he's bae.
We don't have to tell you that Niall Horan is a total babe (because, frankly, that's a given) but we love him even more after he just recreated an iconic One Direction pic with some fans at a recent meet and greet.
A group of mates paid for meet & greet tickets to Niall's recent solo tour date in Bournemouth and made sure to make the most of their five minutes with Mr Horan by getting him to recreate one of 1D's poses.
WE ARE OT5 J SCREAMED AND CRIED WHEN I SAW WHAT DID EE DO TO DESERVE THIS #FlickerWorldTourBournemouth
AND @baselinelouis pic.twitter.com/xfEt9uaDGu

— RACH MET NIALL AGAIN JSSMSJS (@fireproof_rach) March 27, 2018
Niall obviously took on the role of himself while the others arranged themselves around him – and fans could not get over the effort Niall put in to make his pose as spot on as possible.
LIVING THE DREAM

— Kerris mET AND MISSES NIALL (@niallsflwr) March 27, 2018
AGSKDGSKKD THIS IS SO CUTE

— rachel (@hadme_atharry) March 27, 2018
ofsuhxbv IM SCREAMING

— martin (@MxrtinThomp) March 27, 2018
Look at him with his hands in his pockets !! He's trying to recreate it as exactly as possible https://t.co/qOH3f2HsKI

— For Niall (@ForNiall1) March 27, 2018
Oh my word they legit recreated this 1D pic. pic.twitter.com/mLNoZ0cXs7

— Rachel (@niallIaughs) March 28, 2018
THEY SHOWED NIALL THIS ONE DIRECTION PICTURE AND RE-MADE IT I CANT pic.twitter.com/sK0JauUKE5

— Nialler Diaries. (@niallerdiaries) March 27, 2018
From the jaunty hand in his pocket to the slightly open mouth – we reckon Niall's got it down perfectly. Now we just need that hiatus to be over to see the real thing once again... Please?