Meet 'Zaughty Boy' - Naughty Boy Confirms His Collaboration With Zayn Malik Is Coming!
3 March 2015, 09:22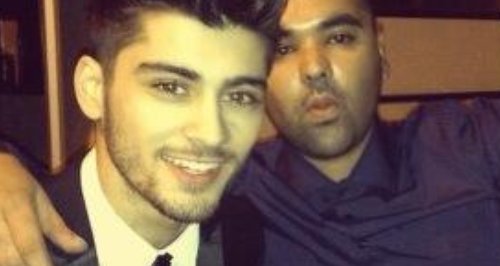 The 'La La La' producer says the new track sounds like BOTH acts… and it will be appearing on his new album.
The rumours of a Naughty Boy and Zayn Malik collaboration have been floating around since LAST MAY but it's finally been confirmed - the song WILL be appearing on Naughty Boy's new album!
Back in May last year the boys revealed their budding bromance to the world when they both tweeted about enjoying some studio vibes and messing around with Zayn rapping to some Naughty Boy tracks.
Naughty Boy on his Zayn Malik collaboration…
Naughty Boy finally confirmed that the song they've been working on will appear on his next album, telling The Sun, "I can't deny the fact that we have made music together... Zayn is going to feature on my next album."

"We're making music and having fun. This is just like a side gig and I don't think there's anything wrong with it. It's a good time for Zayn to showcase what he can really do. I don't think that is being fully exploited with the band because there are five people and it needs to be balanced out."
It's the first time either of them have confirmed that we will definitely get to hear the new track, as Naughty Boy previously told Capital at Wireless Festival 2014, "I'm encouraging him to be a great songwriter and sing great songs. The rapping is a hobby. It's the same thing with him."
"We've done something with him that might be a One Direction single," the 'Lifted' producer excitingly teased. "It sounds like them and it sounds like me. Me and Emeli [Sande] wrote it, and Zayn actually wrote on it too, but it does sound like them. But the natural 'next' them."
Naughty Boy went on to chat about the 1D boys growing up into young men and evolving their style and sound since they first burst onto the scene.
"They're all becoming like their own unique person, so I think that's when you'll get the best songs," he added.
BUT… the most exciting news is that the boys have dubbed their bromance "Zaughty Boy"! So come on chaps, how do we join?
You May Also Like: