Watch: Miley Cyrus Pulls The Ultimate Prank On Jimmy Kimmel As He Sleeps
22 May 2018, 12:14
Miley Cyrus is the latest star to ambush Jimmy Kimmel whilst he sleeps peacefully at home, following in the footsteps of Rihanna and Michelle Obama.
We can think of worse things in life than being woken up in the middle of the night by an A-lister singing their most famous hit to you, but Miley Cyrus didn't hold back when pranking her pal Jimmy Kimmel.
Miley Cyrus Proves She Has A Heart Of Gold By Buying A 'The Voice' Contestant Her Dream House...
She brought a whole wrecking ball, hammer and wall to smash up on him as he lay asleep in bed and Miley, laughing at her wild former self asks Jimmy if he wants a lick of her sledgehammer, adding "it tastes really good, it's kind of my thing".
It is the latest in a series of pranks where Jimmy's wife lets a huge star into their Hollywood house in the middle of the night to wake a very confused Jimmy up, and the results are always hilarious.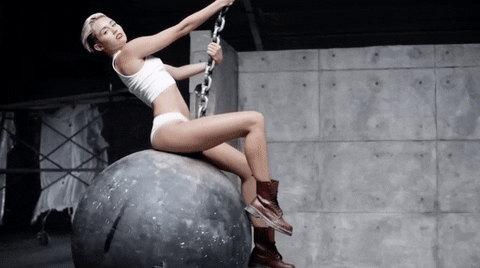 Picture: GIPHY
Download Our Brand New App For All The Latest Celebrity News