Miley Cyrus Performs HILARIOUS Broadway Musical Version Of 'Wrecking Ball'
8 July 2014, 11:14 | Updated: 8 July 2014, 11:15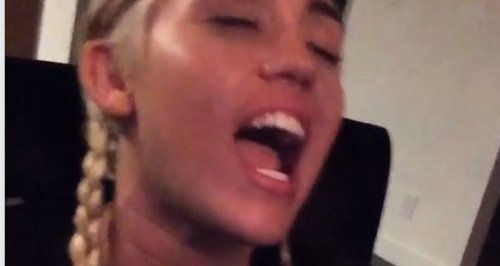 Things have all gone VERY dramatic in Miley's new version of her signature hit.
Jazz hands at the ready… it looks like Miley's auditioning for Broadway! Well, sort of!
The US superstar posted up a HILARIOUS stream of Instagram videos last night of herself covering 'Wrecking Ball' as if she was the star of her very own musical.
From belting out the high notes to rocking some SERIOUSLY Broadway facial expressions, our girl Miley shows she has some incredible pipes for the stage!
Check out the video clips below as we guide you through Miley Cyrus' 'Wrecking Ball'…. Broadway Style!
First up Miley kicks us off with a VERY dramatic start. C'mon everybody… "You… came… in… like… a… WRECKING BALL!"
Then things all head into the belting phase as Miley hits those high notes OUT OF THE THEATRE!
Wait… that high note is STILL going!
*drum roll please*… Miley brings her rendition to a STUNNING close! #Encore