Miley Cyrus Reveals Her Plan For "World Domination": "This Isn't Just Some Mess!"
3 October 2013, 08:56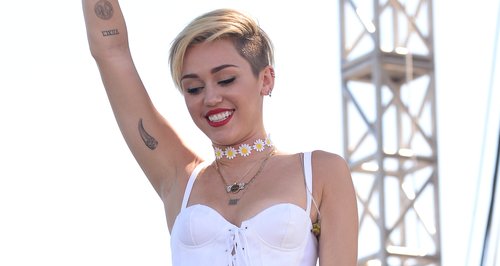 The 'Wrecking Ball' singer explains her "movement" and describes it as a "strategic hot mess".
Miley Cyrus says her recent stream of controversial antics are not just "some mess" and are all part of a "bigger plan' for world domination through her music.
The 'We Can't Stop' singer has courted heavy controversy this year with her music videos and MTV VMAs performance in particular, but says it's all about building "the movement".
"I think if people could see the details they would know that this isn't just some mess," Miley revealed during the premiere of her MTV documentary Miley: The Movement on Wednesday (2nd October). "This is all thought out in my mind.
"Every decision goes into a bigger plan," the 'Party In The USA' star explained. "For me, the movement needs to be something bigger than just a record.
"For me, the movement is something that represents like taking over the world, that's the only way to describe what I'm doing," she continued.. 'People can look at the VMA performance and think it's a hot mess.
"[But] it's a strategic hot mess," Miley added.
The 'Wrecking Ball' singer is set to release her new album 'Bangerz' this coming Monday 7th October.
Miley: The Movement aired in the US last night and airs in the UK on MTV this Thursday (3rd October).