The TCAs Descended Into Chaos As Miley Pulls Out Of Hosting Last Minute & Is Replaced By Controversial YouTuber Jake Paul
14 August 2017, 11:40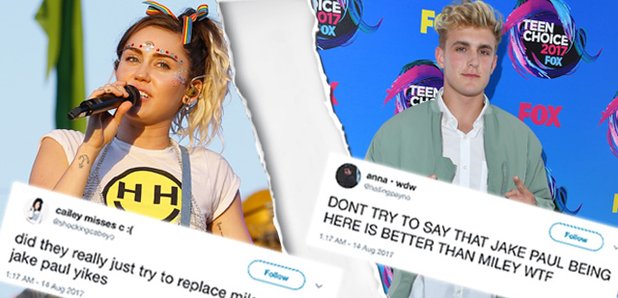 Weirdly, she did even soundcheck.
The 2017 Teen Choice Awards descended into chaos at the last moment as it was announced that the rumoured host, would not be attending the show.
She was being awarded with an honorary award, 'The Ultimate Choice Award' but was unable to pick the prize up in person.
> Ex Disney Star & YouTuber Jake Paul Is Being Slammed For Racism After Telling A Fan He Sounds Like He Would "Blow Someone Up"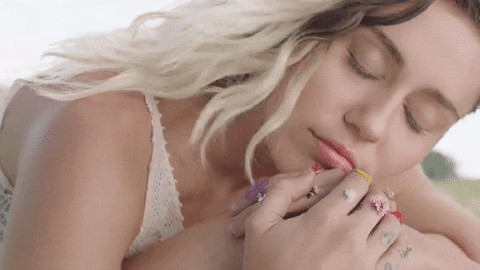 Victoria Justice, the 2016 host, appeared on stage to tell audience members and viewers that "Miley Cyrus couldn't make it… but here's Jake Paul".
Naturally, fans were angry as Jake Paul was only a couple of weeks ago accused of racism when he told a fan that he "sounded like he'll blow someone up".
However, it seems that she did have a good excuse as she took to Instagram to release an official statement.
"To my dearest fans & all of those watching Teen Choice Awards! I want to say thank you from the very bottom of my heart for presenting me with #TheUltimateChoiceAward! I am beyond bummed I couldn't make it to the show as I had every intention of being there to accept and celebrate this honour!", she wrote.
Miley then gave a brief explanation as to why she was forced to miss the show.
"I created an unrealistic schedule for myself which leads me to this announcement! I've been trying to keep the secret but I can't hide it any longer! My new single/music video #YoungerNow will be dropping this Friday", she revealed.
Now, whilst we are super excited for new music from Miss Cyrus, we're gutted that we didn't see her strutting her stuff on the red carpet.
And it seems that we are not alone:
BRUH THE TEEN CHOICE AWARDS JUST SAID MILEY CYRUS COULDNT MAKE IT SO HERES JAKE PAUL PUT ME IN MY GRAVE

— elijah daniel (@elijahdaniel) August 14, 2017
victoria justice: miley cyrus couldn't be here last minute...but don't worry we have jake paul!!

me: pic.twitter.com/3W0D2hzQsX

— sara (@thisbemesara) August 14, 2017
Victoria justice: sorry miley couldn't make it, we can thank our lucky stars we have jake Paul though!!!

Me: pic.twitter.com/hidxnnq9Xm

— Relatable Dinah (@relatabledinahj) August 14, 2017
The past generation grew up with Xtina, Britney annd Bey & we grew up with Demi, Selena and Miley now these kids have Jake Paul omg pathetic

— (@hoIydemi) August 11, 2017
"Miley couldn't make it here last minuite, but we have Jake Paul instead !" pic.twitter.com/Y9MYikddUZ

— amanda (@angelforhaz) August 14, 2017
I cannot believe they replaced Miley Cyrus with Jake Paul #TeenChoice

— olivia (@GPinkSnapback) August 14, 2017
*Unfortunately Miley couldn't make it. BUT JAKE PAUL IS HERE*

Even thinking putting Miley's legendary name next to... I- #TeenChoice pic.twitter.com/5uaBOoRjy5

— ° (@OrphicMiley) August 14, 2017
in what world is jake paul on the same level as miley cyrus

— abby//11 (@newoybba) August 14, 2017
Miley Cyrus couldn't make it!... so here's Jake Paul. Biggest downgrade ever lmao #TeenChoiceAwards

— K a t (@LetM3Dr0wn) August 14, 2017
Literally having 5 minutes of just nothing would've been better than having Jake Paul perform bc Miley Cyrus couldn't make it #TeenChoice

— ↣ Amanda ↢ (@Shays__Angel) August 14, 2017
Can you believe they just let us down w/ Miley not being there only to try to make it up with Jake Paul? Don't insult Miley like that #TCAs

— Kara #Aug25 (@normallykara) August 14, 2017
jake paul does not even compare to miley cyrus BYE

— em (@camdallasinq) August 14, 2017
To top things off, none of the big winners were there to accept their awards either with Beyonce and Ed Sheeran being no shows, along with Gal Gadot and Bruno Mars offering video acceptances.
This is the moment that annoyed fans worldwide, when Jake Paul turned on a fan...
> Download Our App Now, And Get All Of The Latest News