Miley Cyrus Teaches Her Sister How To Twerk Ahead Of 'Bangerz' Tour Date
15 April 2014, 09:11 | Updated: 15 April 2014, 17:14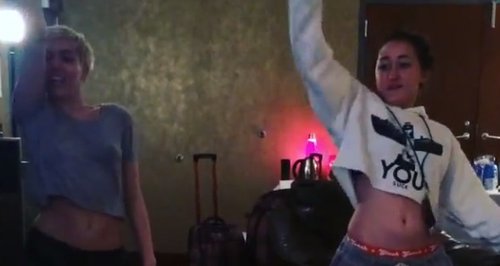 The 'Adore You' singer and her sister show off their moves while hanging out on tour.
Miley Cyrus enjoyed some rare time off from her 'Bangerz' tour this week to teach her younger sister Noah how to dance.
*Warning, these videos feature strong language which may cause offence*

The 'Wrecking Ball' star posted up several videos of herself and 14 year-old sister Noah practicing some dance routines in a backstage dressing room.
Miley led the youngest member of the Cyrus clan through a routine for Cali Swag District's 'Teach Me How To Dougie', before going slightly more risqué in a second clip of them dancing to Akon's 'Smack That'.
Over the weekend Miley revealed to fans that she has given away new puppy Moonie after finding it too difficult to cope after the death of her pet dog Floyd earlier this month.
You may also like: