Miley Cyrus Gives Away New Puppy Dog Moonie: "It's Just Too Soon For Me Right Now"
14 April 2014, 12:41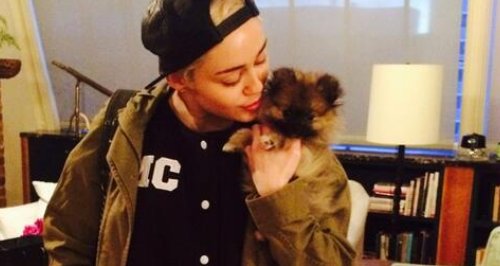 The 'Adore You' star confirmed she gave away the dog after struggling to deal with losing Floyd.
Miley Cyrus has revealed she has given away her new pet puppy dog Moonie after finding it "too soon" after the death of her dog Floyd earlier this month.
Last week the 'We Can't Stop' singer revealed her mum Tish had bought her a puppy dog to help her cope with losing her two year-old dog Floyd recently.
"Moonie, thank you for giving me so much love, comfort & peace," Miley tweeted over the weekend. "It's just too soon for me right now. #MissingMoonie."
When asked what had happened to her new arrival, the 'Wrecking Ball' star went on to reveal she had given the dog away for one of her friends' mums.
"My friends' mom who has a tiny pup 4 him 2 play with," she explained. "After why happened I'm scared 2 have a tiny dog. #MoonieAndMolly."
"[He'll be happy] & SAFE! That's the most important part of loving a puppy, they depend on you," Miley added.
You may also like: