Miley Cyrus Announces New Album Title 'Bangerz'
7 August 2013, 08:42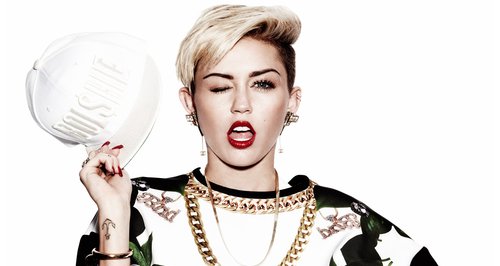 The 'We Can't Stop' singer says fans can expect plenty of big hits on the forthcoming new release.
Miley Cyrus has announced that her new album will be called 'Bangerz'.
The 'We Can't Stop' singer unveiled the title on Twitter, telling her followers that it had a very literal meaning.
"If you don't know why my record is called BANGERZ you'll know as soon as you hear it. Nothin but #BANGERZ," she wrote.
'Bangerz' has yet to be given a release date, but will feature Miley's recent single 'We Can't Stop'.
In a recent interview, Miley revealed that she had considered dropping her surname for her recent comeback in a bid to escape her past.
"I was thinking about dropping the Cyrus and just being Miley but there's something powerful about the fact that my name now is like a household name," she revealed.
"People have this misconception of me that I'm just one of these kids on TV and that now I go off and party and I'm just this ratchet white girl, and I'm not."
Miley is among the artists set to appear at the MTV Video Music Awards later this month.