Miley Cyrus Responds To MTV EMAs 2013 Controversy: "I Thought It Would Be Funny" – Video
13 November 2013, 08:09 | Updated: 13 November 2013, 08:18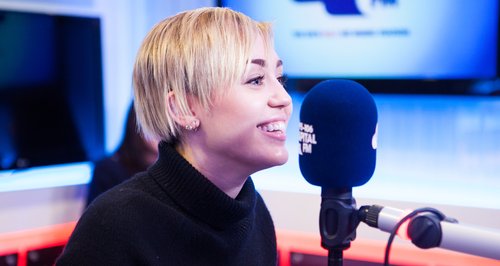 The 'We Can't Stop' singer says she doesn't care what the media thinks and smoked on stage for her fans in Amsterdam.
Miley Cyrus has confessed that one of the main reasons she smoked on stage at the MTV EMAs this past weekend was to send her fans in Amsterdam wild.
The US star hit the headlines following the event due to the controversy of her actions but told Capital Breakfast that it wasn't something she gave much thought to as she walked from her dressing room.
"It's kind of funny because after you do something like that – everyone doesn't want to talk as much about your performance. But this is one of my favourite things about coming to Europe is even though that happened, it's not like the main focus of the night," she declared.
Miley was asked if she knew the consequences of her actions and how people and the media would react to such behaviour.
"It's not something that I think about," she continued. "I was just walking out of my room and then I was like 'Oh I have this in my bag, that will be really funny. And I didn't say anything to anybody – it's not that I think about that and I don't tell anyone I'm gonna do it.
"Some people I think overthink stuff so much – that's not why I do it. I just did it mostly because I knew the fans in Amsterdam would love it and they started going crazy when I did it."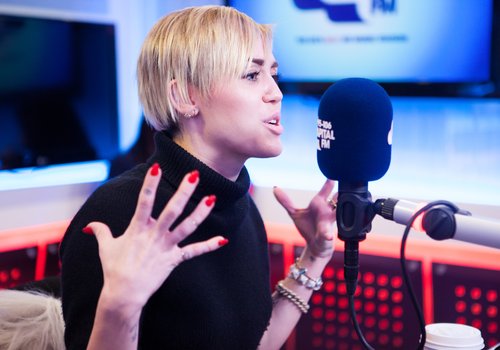 The incident took place during her acceptance speech for Best Video – awarded for her 'Wrecking Ball' promo.
"I don't care what the media says because I don't Google myself so I don't know what they say and I don't care because it's a bunch of people that maybe one time in their life they dreamt about being a journalist and then they became what they are," added Miley.
This week has also seen Miley confirm to Capital that she will be heading to the UK and fans can expect "chaos".