Lady Gaga Defends Miley Cyrus' MTV VMAs 2013 Performance: "People Need To Lighten Up"
1 September 2013, 07:37
The 'Bad Romance' star speaks out about the US singer and her controversial performance last weekend.
Lady Gaga has spoken out about Miley Cyrus' performance at last weekend's MTV Video Music Awards 2013 and said people need "to lighten up".
The 'Marry The Night' singer, who was also performing on the night in Brooklyn, told The Sun that she wouldn't "pass judgment" but reiterated the entertainment factor around pop music.
"I don't like to pass judgement on Miley Cyrus. Generally, people need to lighten up about pop music, it's about entertainment," she told the publication.
"It is here to make you smile and make you happy. Especially in America there is an excessive dragging of female artists and I don't want to contribute to that."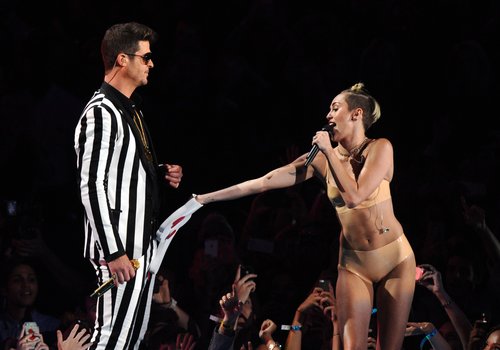 She continued: "I do things that are polarising sometimes but that's what it's all about."
Stars such as Justin Timberlake have also defended Miley's on-stage antics from the show insisting the show has a history of controversial performances.
The female star even shared a conversation with her father on Twitter revealing he gave his seal of approval to the VMAs performance.
Meanwhile, Gaga is gearing up to make her first full stage appearance since hip surgery earlier this year when she opens the iTunes Festival 2013 tonight (1st September).