"No One Wants To Admit He Was Twerking": Miley Cyrus And Elvis Have A Lot In Common…
1 September 2014, 09:36 | Updated: 1 September 2014, 16:37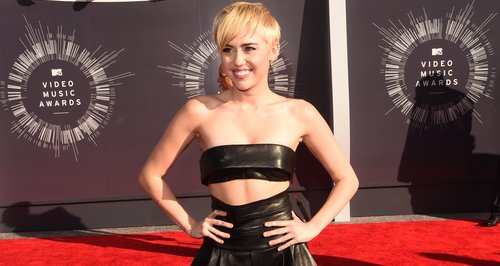 Miley has spoken out about double standards in the music industry – and thinks Elvis was twice as sexy as her!
Miley Cyrus is hardly a shy and retiring wallflower but she reckons Elvis Presley was twice as raunchy as she is – and he even twerked!
Miley spoke out about the double standards in the music industry in an interview with Australian TV show Sunday Night.
She said, "Elvis, he wasn't wearing the outfits I was wearing, but he was coming out and he was doing like the OG twerking... Like, no one wants to admit that he was twerking, he was."
Miley also added that she thinks she is having a positive effect on female empowerment with her risqué performances.
She explained, "He was like sex. He was a symbol of sex but no one would have ever called Elvis a s**t because he wasn't a girl. It's that double standard and I think I'm doing something for the double standard."
And Miley is clearly doing something right – she managed to scoop the award for Video of the Year at the MTV VMAs with 'Wrecking Ball' – go on girl!
You May Also Like…