Miley Cyrus Cancels 'Bangerz' World Tour Date 30 Minutes Before Show Starts
8 April 2014, 10:00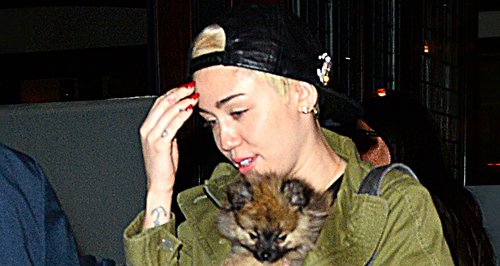 The 'Adore You' star pulled out of the show after being diagnosed with flu by doctors.
Miley Cyrus cancelled her 'Bangerz' world tour show last night (7th April) due to illness, less than an hour before she was due to go out on stage.
The 'Wrecking Ball' star left fans disappointed outside the venue in Charlotte, North Carolina on Monday evening, after an announcement was made she had been told to rest by doctors after developing the flu.
"Miley Cyrus - CANCELED. Due to illness, Miley Cyrus' 'Bangerz' tour date scheduled for tonight, April 7, at Time Warner Cable Arena Charlotte has been cancelled," the venue announced on their website. "Cyrus has been diagnosed with the flu and doctors have ordered her to rest.
The date in question will not be rescheduled, with fans being offered a refund, while Miley's next tour dates are expected to continue as planned.
Last week Miley suffered the tragic loss of her pet dog Floyd and was seen breaking down in tears on stage during her tour.
Miley Cyrus revealed over the weekend that her mum has bought her a new puppy called Moonie to help her deal with the loss.
You may also like…