WATCH: Meghan Trainor Breaks Down In Tears When She Gets Her Best New Artist Grammy!
20 April 2016, 15:16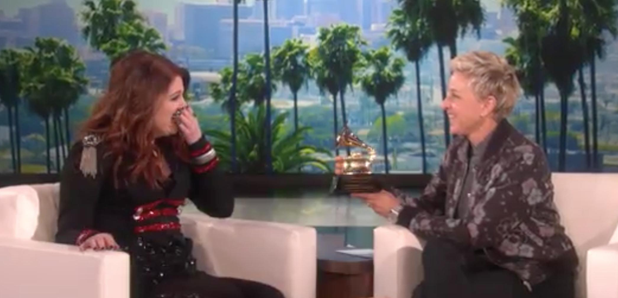 Ellen DeGeneres presented Meghan with her Grammy Award and the 'No' star was overcome with emotion!
Watching an awards show like the Grammys, most people would assue that each star gets to take their award home with them there and then… but really they only get their award weeks later… and Meghan Trainor was overcome with emotion when she was finally given hers.
Appearing on the Ellen DeGeneres show, Meghan was asked about where she kept her Grammy award, and she revealed, "It's not here yet. They're building it, I guess, from scratch. It's not here but it's coming this month."
Ellen then surprised Meghan by telling her, "No, it's coming right now because I called my friends at the Recording Academy and you have your Grammy right here. And you're crying again!"
Once she'd dried her tears, Meghan and Ellen played a game of Who Would You Rather to help Meg find a celebrity boyfriend… and who she chose may surprise you!